Hong Kong's largest jeweler has launched a blockchain-powered app that provides consumers with a digital grading report about the diamond's 4Cs, along with data tracking the stone's journey from mine to market.
Chow Tai Fook partnered with the Gemological Institute of America (GIA) to develop the platform for its T Mark brand, claiming the technology will revolutionize the way the industry engages with customers.
"Consumers live on their mobile devices, so we need to use similar platforms to improve their buying experience and ensure trust and confidence," Kent Wong, managing director of Chow Tai Fook Jewellery Group, explained in an interview with Rapaport News following the launch last week.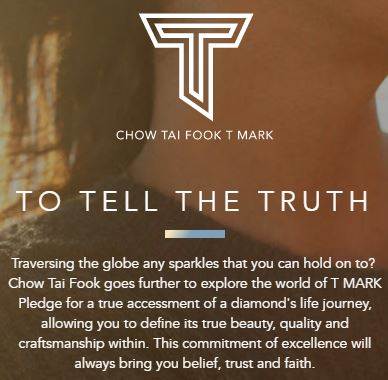 The jeweler, which has more than 2,600 points of sale across Hong Kong, Macau and mainland China, is testing the platform at four of its Hong Kong stores before expanding to other locations by year-end.
When a customer buys a T Mark-branded diamond, the GIA grading report is registered to him or her and recorded on the blockchain ledger shared between Chow Tai Fook and the GIA. In addition to the data that typically appears on a paper grading report, the T Mark app also provides information such as the diamond's country of origin and where it was cut and polished, as well as details of its design and setting into jewelry.
Much of that manufacturing process is completed by Chow Tai Fook, since the company polishes about 50% of diamonds larger than 0.20 carats in-house. That number increases to 70% for the T Mark brand, which is focused on 0.30- to 0.99-carat diamonds in the pilot phase, according to Wong.
Using a patented nanotechnology technique, the company inscribes a unique serial number on the table of each diamond before putting the stones on the blockchain, he explained. More than 3,000 T Mark diamonds have so far been listed on the blockchain, which was developed by service-provider Everledger and secured by IBM's platform, the companies reported.