Jewelry sales boasted an impressive performance in the first half of 2022. Sales rose nearly across the board – a particularly impressive act against the excellent performance of 2021. However, as the months went by, sales deteriorated until they fell behind in June.
Of note, is the continued willingness of the American consumer to spend more per item.
First half of 2022 sales figures
According to our latest Tenoris.bi data, US jewelry sales by specialty jewelers rose 11% in the first half of 2022.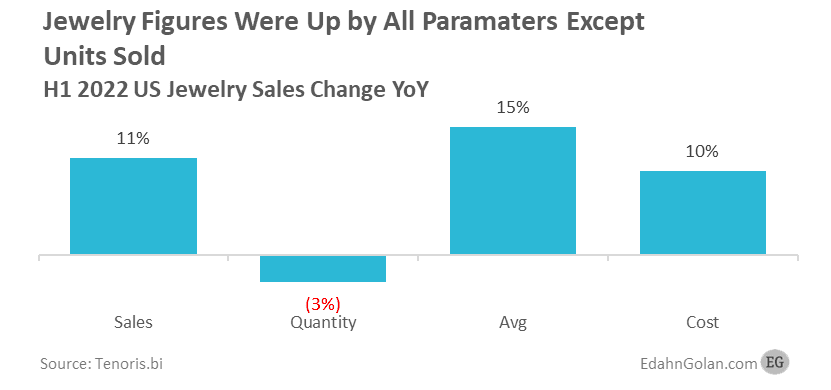 Jewelry demand by US consumers made a significant turnaround in the last couple of years, following the COVID-19 outbreak. Consumers increased their spending by some 50% in 2021. They also increased jewelry spending as share of total expenditures.
The average expenditure increased 15%. Once again, when the times seem hard, consumers buy less for more.
And yet, while sales rose year over year, the quantity of jewelry sales declined 3% in the first half of 2022.
The decline in number of units sold reflects a change in what American consumers are buying – or rather not buying. The desire to buy more jewelry in 2021 was partially driven by delayed weddings. Bridal jewelry accounts for half of annual diamond jewelry sales.
Point in case: The number of engagement rings sold was down year over year every month this year, and down 11% in the first half of 2022.
At the same time, the total value of sales was down marginally, while the average value per engagement ring leaped 15%.

With the pent-up consumer demand for bridal jewelry in 2020 satisfied in 2021, purchases swung back towards fashion jewelry.

So, how did the total value of jewelry sales rise in the first half of 2022 if the number of units sold declined? Simple: the average spend per jewelry purchased increased 15%. This indicates that while fewer purchases were made, the American consumer was willing to increase expenditures on jewelry – just as was seen for engagement rings.
Once again, when the times seem challenging, consumers buy less for more.
Jewelry buying trend breakdown
While in January to April, sales posted a double-digit rise, they declined over time from +24% in January to -4% in June.
During this six-month period, quantity of sales declined as well. They fell from a mid-single digit over last year, to 12% below. The lower quantity figures show that the shift towards a more focused purchasing pattern was the trend in the first half of 2022.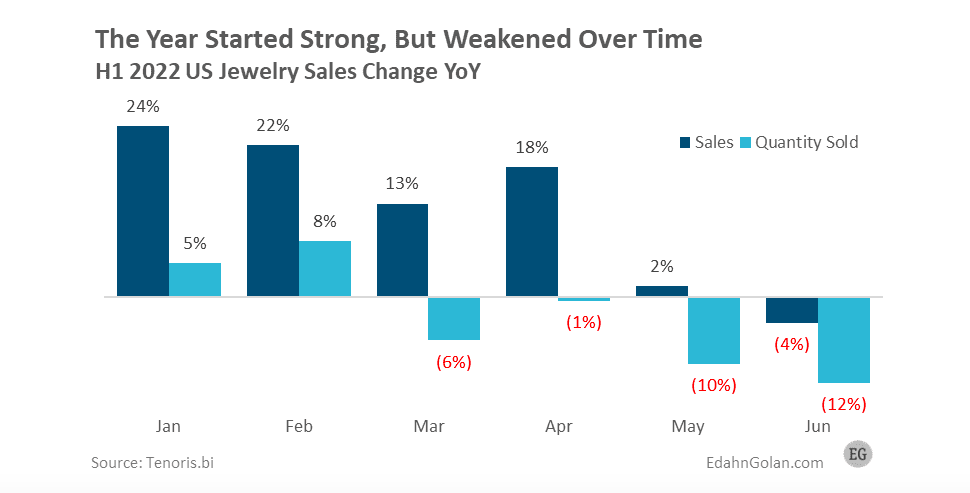 Average retail price remains higher than 2021
The average retail price per unit fluctuated during the six-month period, and yet, stayed at a double-digit rise compared to the previous year.
There is only one explanation for this: A sizeable chunk of American consumers are continuing to display a healthy appetite for jewelry, with a specific craving for higher-end goods.
The average expenditure during the period was $2,005 per item, compared to $1,747 in H1 2021.