We are reaching the end of the holidays and to ease us back into work, whilst allowing ourselves to linger a little in the summer, let's take a look at the high end jewelry collections presented alongside Fashion Week and the Parisian high fashion collections at the start of July. While Dior, Cartier, Pomellato and Chanel had already stunned us, this second section will concentrate on the equally inspired collections of Van Cleef & Arpels, Bvlgari, Boucheron, Chaumet, Piaget and Chopard that vie with them in terms of creativity and technical prowess, for our greater pleasure.
Four fairy tales from the brothers Grimm interpreted by Van Cleef & Arpels
After Le Secret in 2017, Van Cleef & Arpels, with its love of childhood, imaginary and phantasmagorical themes has this year based its collection on four fairy tales from the compendiums published by the brothers Grimm in 1812 and 1815 (Grimm's Fairy Tales): The Twelve Dancing Princesses, The Golden Bird, The Three Feathers and Town Musicians of Bremen.
As a pretext for many virtuosities, the theme allows Van Cleef & Arpels to demonstrate all of its technical expertise and ingenuity, by offering varied, astounding and beautiful pieces of every style, which can as ever be worn in different ways.
Clips are of course as ever part of it and with princes and princesses given pride of place.
But let's linger over the Panache mystérieux clip, inspired by the tale of The Three Feathers, with a Vitrail Mystery SetTM, color sapphires and diamonds, and technical prowess, all cloaked in white, pink, purple and orange, evoking the subtle rich palette of a bird's feathers.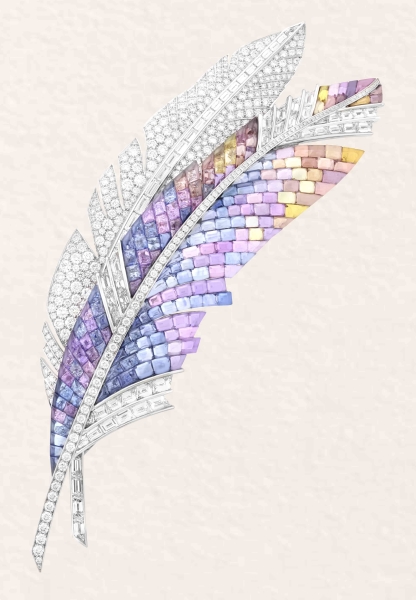 Or its Souliers précieux clip in which slender diamond slippers rest on a plump cushion in lapis-lazuli, white cultured pearls, diamonds and a troidia-cut spessartite garnet of 6.91 carats.
Here, the color of the gems also assumes its full importance (a purple sugarloaf sapphire of 29.63 carats from Sri Lanka and blue and purple sapphires, gray cultured pearls and diamonds create a night of full moon, a yellow oval sapphire of 20.36 carats represents a golden apple), and echoes the quests and feelings of the heroes of the four tales, which we will read and read again thanks to this wonderful idea from Van Cleef & Arpels.
Wild Pop by Bvlgari shakes up the codes
Although it fits perfectly with the personality of Bvlgari, the new Wild Pop collection from the Italian jeweler is as surprising as it is bold! A pop homage to the crazy 80s, which was an iconic decade for Bvlgari—who could forget the Bvlgari-Bvlgari watch with the brand's logo in a circle, or the Tubogas (Bvlgari Bvlgari) and Monete collections, inspired by antique coins, which are also called to mind here—revisiting the codes of this period: big volumes, kaleidoscopes of vivid colors, simple or geometric shapes. With Wild Pop there is no question of good or bad taste (the 80s will always be a matter of debate), this is not a collection for the faint hearted, "extravagance" is the watchword chosen by the house.
The Synthesizer necklace calls to mind the "disco" sound of the eighties, we are back in the world of Studio 54: it shows a synthesizer keyboard (a symbol in itself), whose black and white keys are made from onyx and diamond. In this regard, Bvlgari offers you a flashy little video to show off its collection.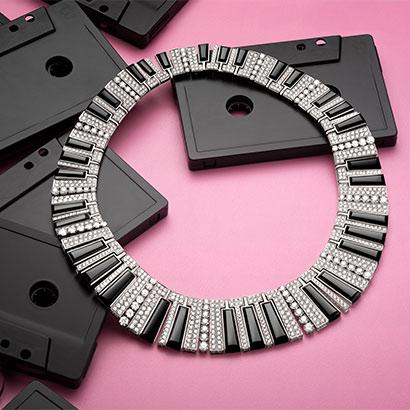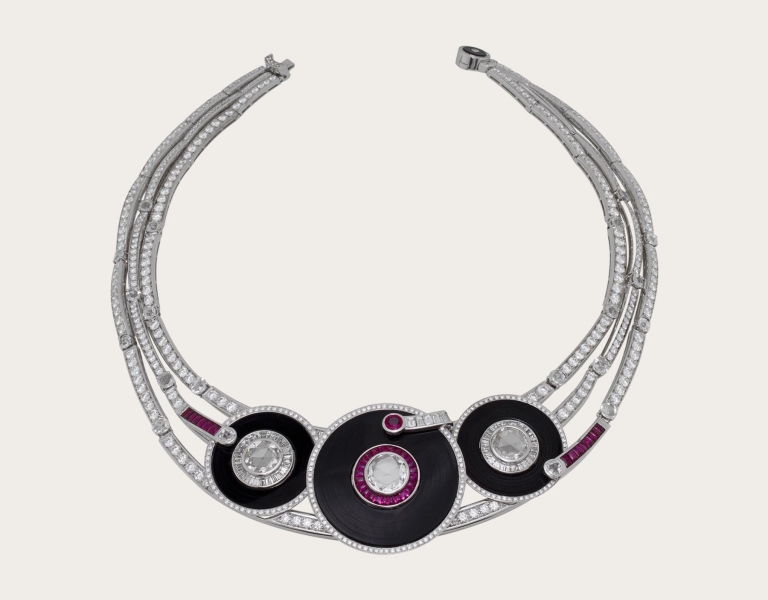 Pop art had already inspired the Stars and stripes collection (in the 70s), which celebrated its links with New York in particular, and some of the pieces from Wild Pop pay tribute to the name Andy Warhol, a figurehead for the avant-garde artistic movement from the 60s to the 80s, who wove close ties to the House of Bvlgari. This is illustrated by the highly fantasist white and gold "sneaker" earrings made from diamond, coral and pearl.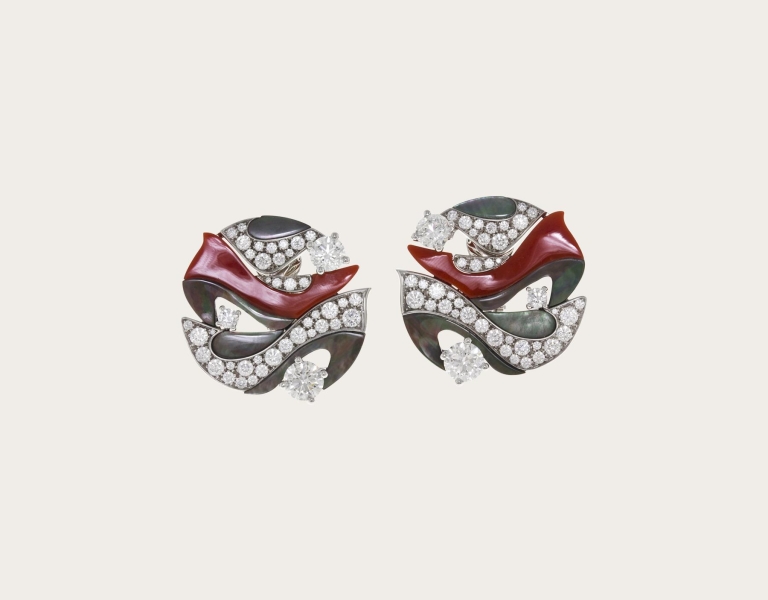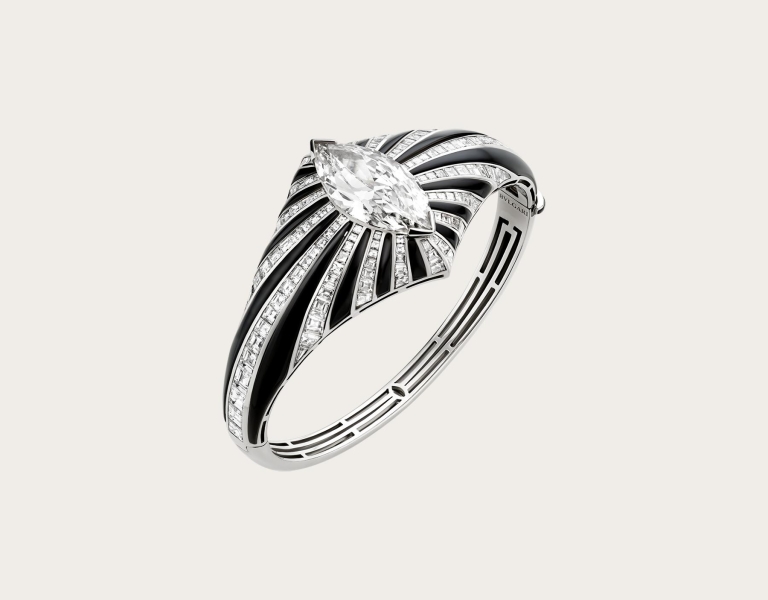 Wild Pop pushes back the limits of "right thinking" (what can you say about the cannabis leaf shaped Happy Leaves necklace, 14.63 carats of diamonds and 5.60 carats of emeralds) and shakes up the codes of high end jewelry!
Boucheron and its Nature Triomphante defying the laws… of nature!
In high jewelry, high technical skill and sublime nature make a perfect couple. And Boucheron proves it, thanks to its 3D digitization of a real ivy branch wrapped around a model's neck, which allowed it to create the "larger than life" and mobile Lierre Givré necklace, made in titanium, set with diamonds and frozen cachalong leaves (white opal with a porcelain appearance) imitating the effect of frost. As part of the "Naturaliste" part of this collection, the ivy theme is drawn from the House's archives, with Frédéric Boucheron having a particular penchant for this creeper…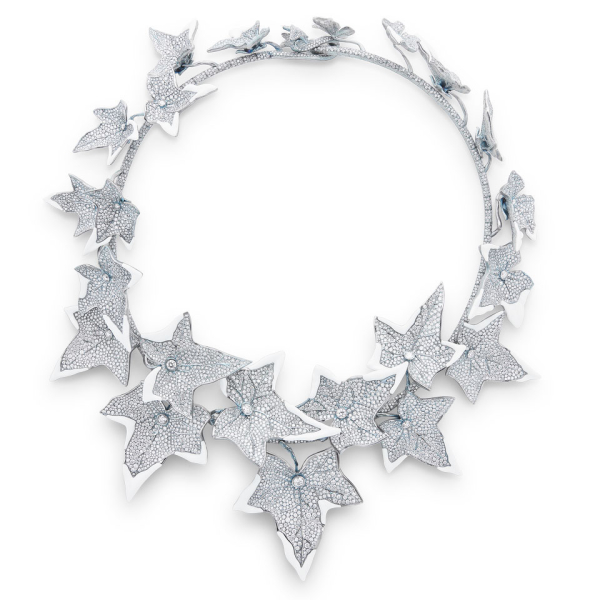 As for the flowers, the queens of Nature Triomphante, they are as realistic as they are delicate—all of their structural and chromatic complexity is reproduced with the skill of a virtuoso. For example, the magnificent Nuage de fleurs necklace, set with 42.96 carat cushion pink tourmaline and mother of pearl, paved with diamonds, on pink gold, which is part of Chapter 2 of the collection "Surréaliste".
But it is the Fleurs éternelles from the final chapter, "Alchimiste", which are truly breath-taking, rings made from natural petals set with exceptional sapphires, topaz, garnets, tourmaline, rubellite or diamonds—they are too life-like and too beautiful to be true.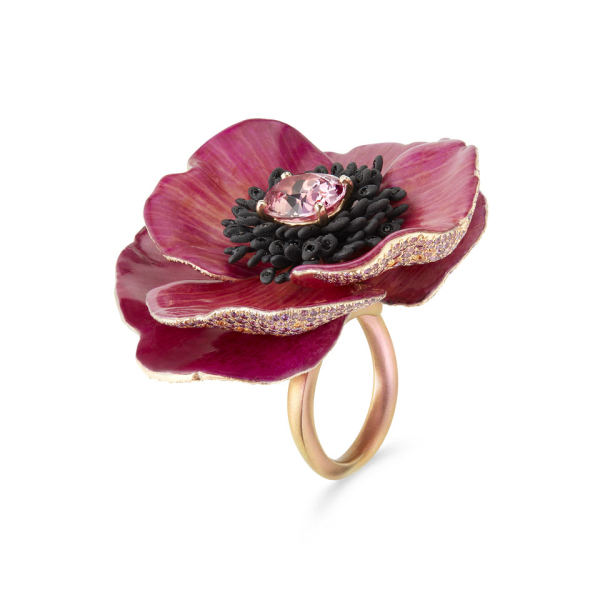 A collection through which the House intends to express its "freedom" and for which the presentation seems almost like a manifesto: "BOUCHERON is free. Free to express its strength of character and its instinctive, rebellious nature."
Les Mondes de Chaumet – Trésors d'Afrique
Chaumet invites you to part 3 of its "Mondes" collections.  Trésors d'Afrique follows on from the Japanese Chant du printemps and the freezing cold of the Siberian Steppes of its Promenades impériales. For Trésors d'Afrique, the House drew its inspiration from the sub-Saharan steppes of Africa.
Yellow sapphires and red rubies celebrate the golden desert sands or the red ochers of African landscapes, the alliance of colors and materials was the key for this third section that tells five stories: Rondes de Pierres, Cascades Royales, Terres d'Or, Espiègleries and Talismania.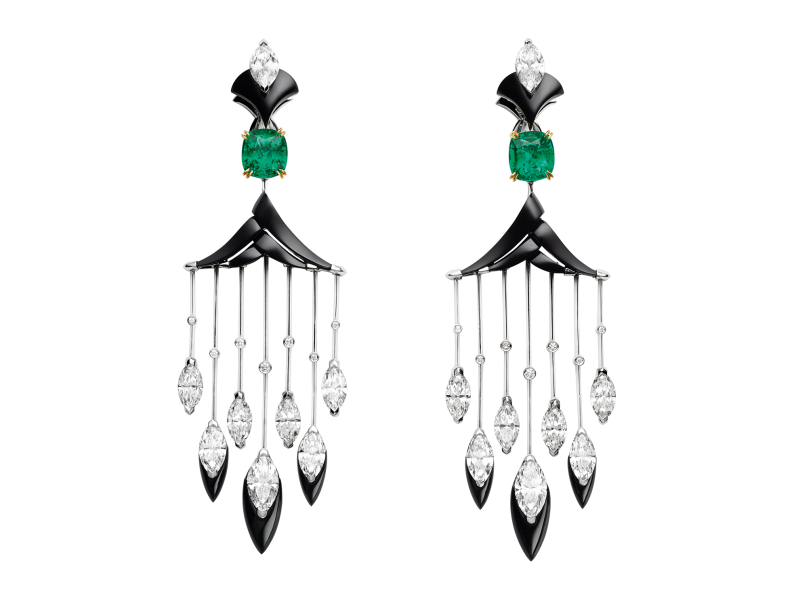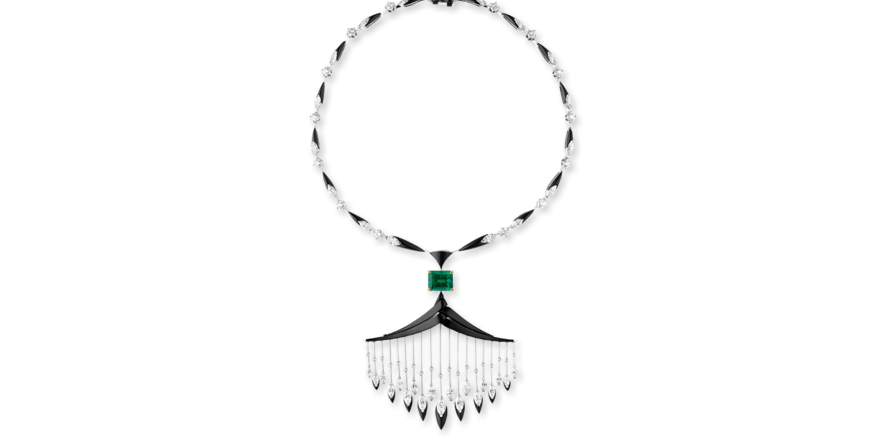 Adornments from the banks of the Nile (balls of red spinels, emeralds, sapphires, mandarin garnets, black spinels, black plated gold and diamonds), or falling, black, white and green adornments, traditional patterns from African fabrics, African art or wickerwork are all sources of inspiration for this multifaceted collection.
Worthy of note, the 6 broaches (one of which can be transformed into earrings) and 6 watches from Espiègleries, which take a fresh look at African wildlife and were created with the Kenyan artist Evans Mbugua.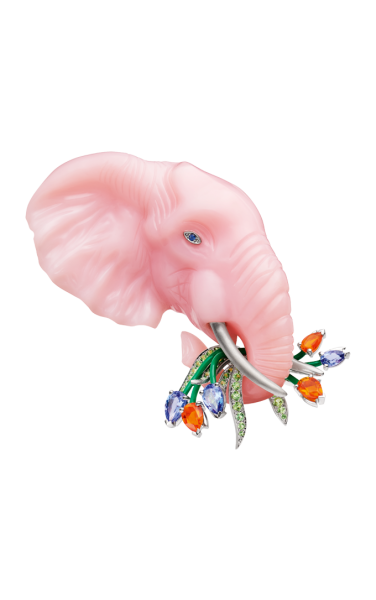 Chaumet, which began to meet with the public through its Pop-up Museum in Place Vendôme in September 2015, presented its fine jewelry collection in Paris, on July 7 and 8 this year. Since June 28 and until September 17, it's in Tokyo, at the Mitsubishi Ichigokan Museum, that you can admire the "Mondes de Chaumet" and discover nearly 300 archive pieces…
With Sunlight Escape, Piaget celebrates the sun
Piaget's fine jewelry collection, Sunlight Escape, inspired by the light from our celestial orb, is organized over 3 lines: Warming Lights, Exalting Sights and Dancing Nights. Each sparkle of light radiating off the colored precious stones evoking the "many reflections of the sun" at certain times of day, in different places, is a prelude to flamboyant creations.
Pink, white and golden tones for Warming Lights that is true to its name (pink gold, yellow and white diamonds); frozen blues and dazzling whites inspired by the cold light of the North Pole for Exalting Sights (lapis-lazuli, Paraiba tourmalines, aquamarines); finally, green, blue and red for Dancing Nights that brings to mind the fascinating, scintillating forms of the northern lights (spinels, Paraiba tourmalines, spessartites and opalines).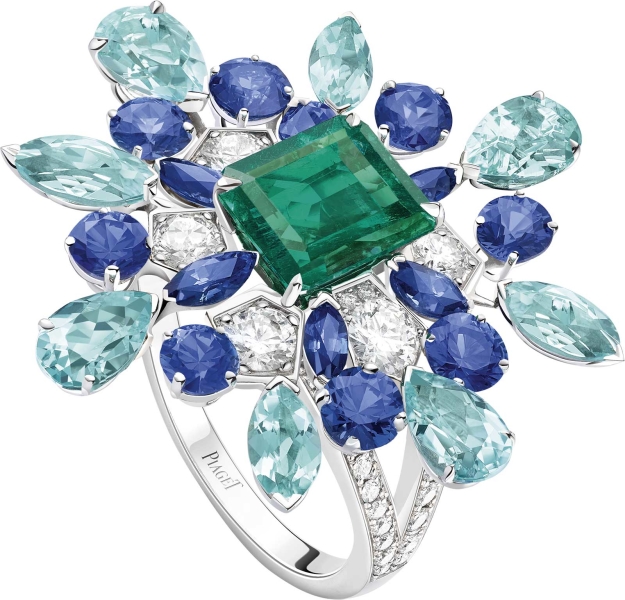 We will linger over the work of Nelly Saunier, a feather working artist, winner of the Liliane Bettencourt Prize for the Intelligence of the Hand, who designed 4 creations, earrings and cuff bracelets (Blue Emotion cuff), compositions of pure white or blue feathers reflecting the sunlight.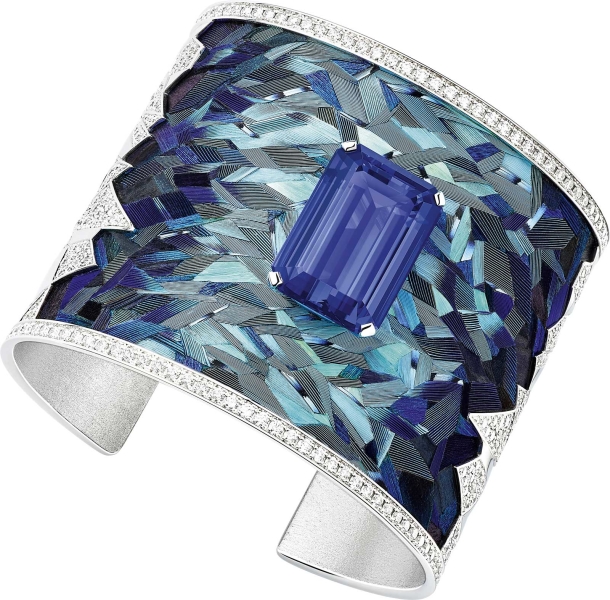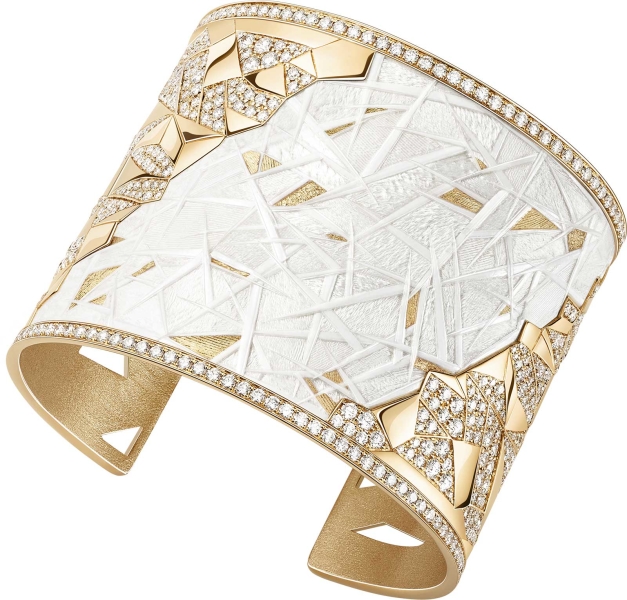 Or on the Midnight Sun necklace, including a 6.02 carat necklace, and pink gold rods engraved using the Palace decoration technique (manual guillochage on gold to create uneven striations reproducing the effect of wild silk) and set with marquise cut diamonds.
Or finally, the pair of earrings, from the 3 collections created in collaboration with Rose Saneuil, master of the art of marquetry, who designed inlaid works combining thin spangles of rye with sycamore wood shavings and European charms.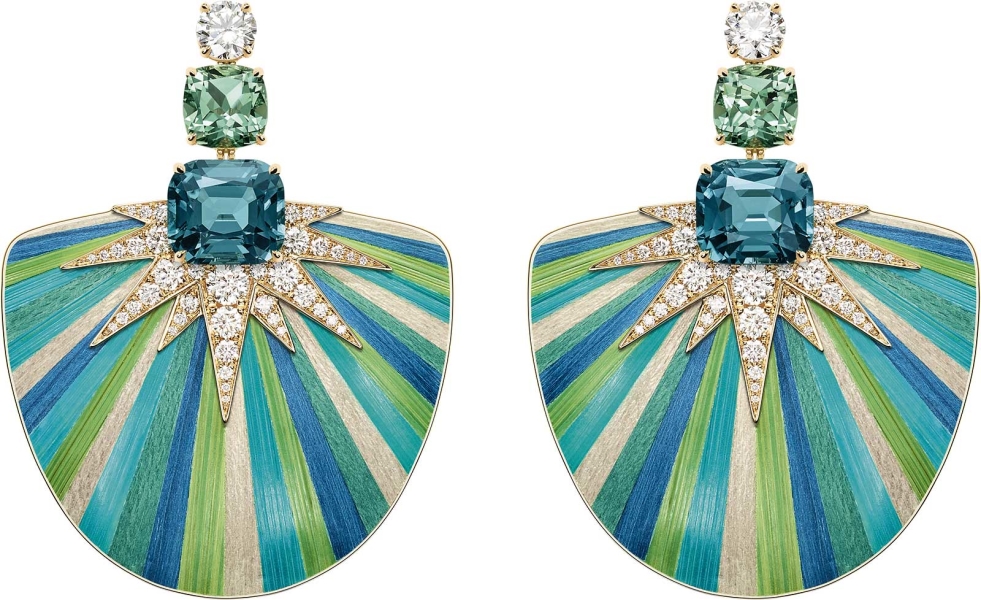 Spectacular journeys with Chopard's Red Carpet collection
Every year, the new collection for the House of Chopard is unveiled at the Cannes Film Festival, of which it has been a faithful partner since 1998. The 2018 edition of the Red Carpet collection draws its inspiration from the—many—journeys of Caroline Scheufele, Artistic Director and Co-President of the House. Architecture, art, literature, cinema or nature, all serve as a pretext for creation, with a love of precious stones, ingenuity and spectacular character clearly being the prerequisites.
The pieces are eclectic, spectacular, traditional for some—A model of perfection, a set of earrings and necklace, set with Columbian emeralds (17, cushion cut, no oil emeralds for the necklace) and enhanced with diamonds (including a 20.5 carat D-flawless pear cut diamond, again for the necklace)—but all audacious and colorful.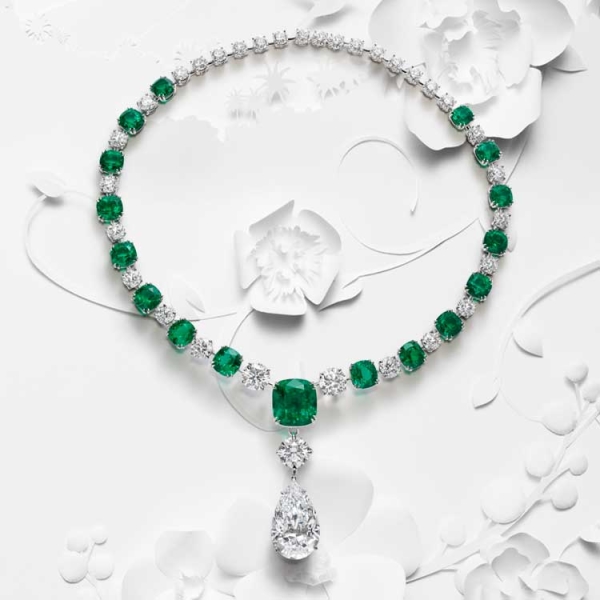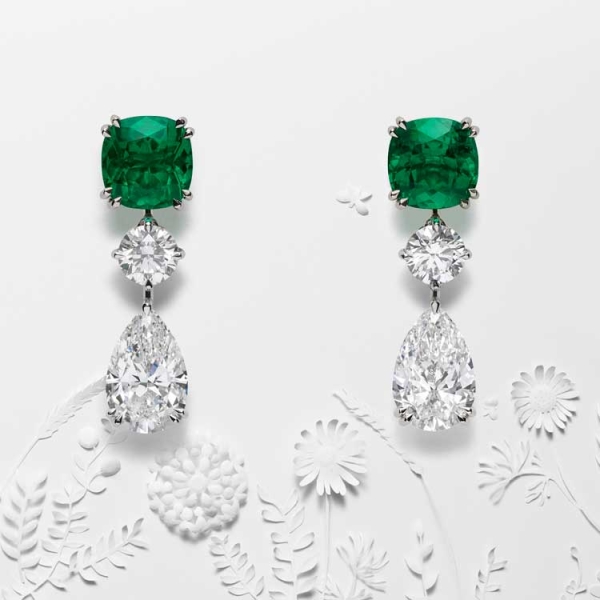 We also travel from Bohemia to the Roaring Twenties, with a stop off in Mongolia—with the stunning necklace "A voyage to distant land of Khan's and Khatum's" decorated with feathers, once again created in collaboration with Nelly Saunier (cf. Piaget)—to end our journey in the garden of Aphrodite or… on cloud 9!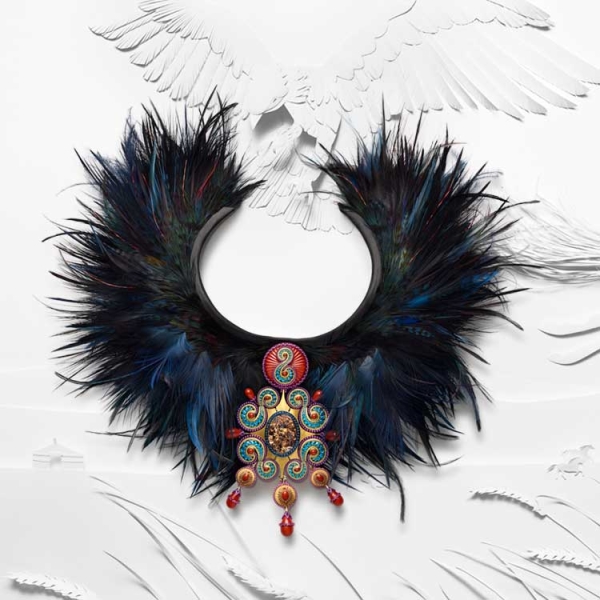 Source Rubel & Ménasché