Light, and the way it interplays, contrasts, reflects and casts shadows… surely there is no better way to illuminate precious gems and inspire high-flying jewelry designs!
This, in any case, is the approach taken by Hermès and De Beers Jewellers, for which light in all its complexity has served as a creative medium for fine jewelry collections that are as architectural and artistically free as they are pretexts for innovation and technical virtuosity.
Hermès, 'Les Jeux de l'Ombre' and light
Shadow and light are the playgrounds chosen by Hermès and Pierre Hardy, its jewelry creative director for its latest fine jewelry collection. Contrasting one with the other, playing with opposition and hints of movement, here it is about 'embodying the elusive', by drawing on the Maison's style codes.
Clearly, there can be no shade without light, it is even its 'treasure' according to Pierre Hardy, and the opportunity to indulge in sophisticated shade gradations, such as through the delicate pavé work, treated here 'as a material.' In the Chaînes d'ombre necklace, each individual link of the diamond-pavé white gold anchor chain illuminates its double, shadows formed by gradations of black spinels and blue sapphires in pavé.
A "very complex jeweling either via gradations or chiaroscuro" that permeates all the sculptural pieces in this fine jewelry collection. Thus, the Miroir d'ombre necklace made up of white gold set with baguette-cut diamonds and a 3-carat cushion-cut yellow diamond, whose shadow is also represented by gradations of blue sapphires. In the Lumières brutes ring, a subtle pavé of white and ebony brown diamonds, which creates the shadow of an intensely brown rough diamond, chosen to evoke the stone's 'original splendor.'
These are far more works of art, than jewelry…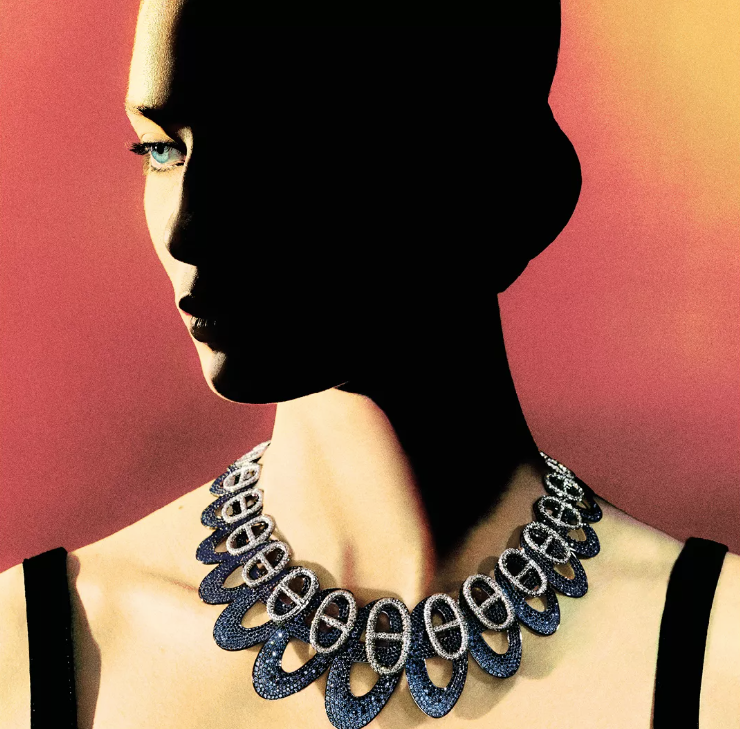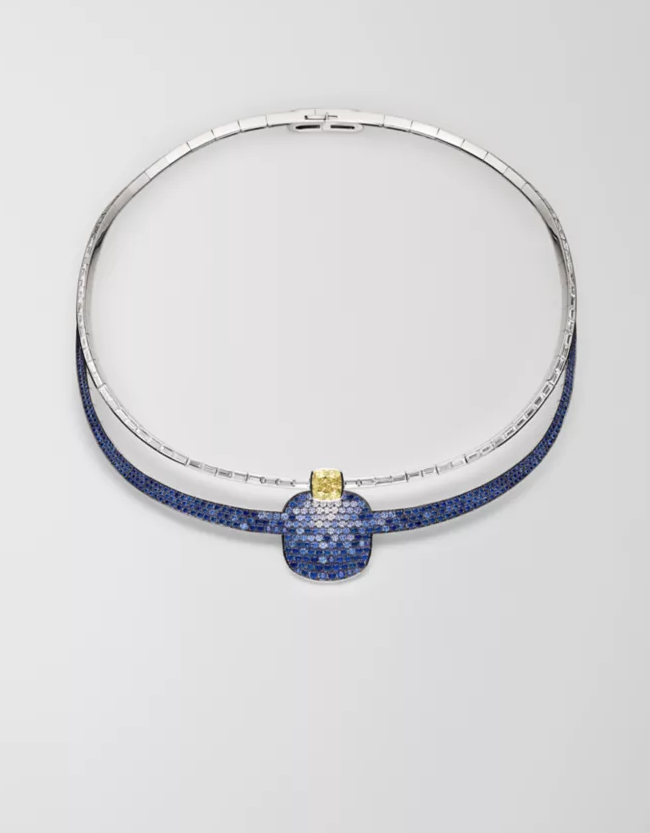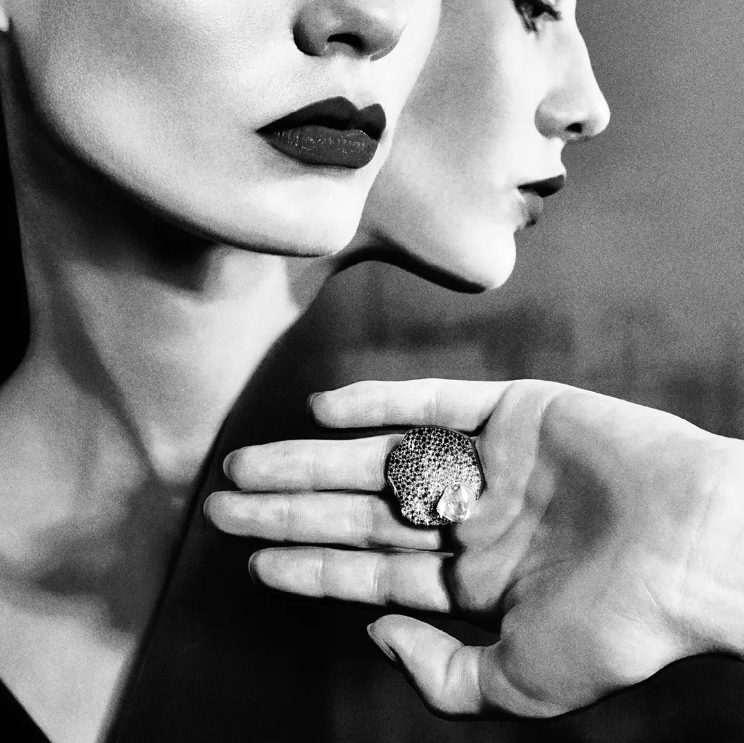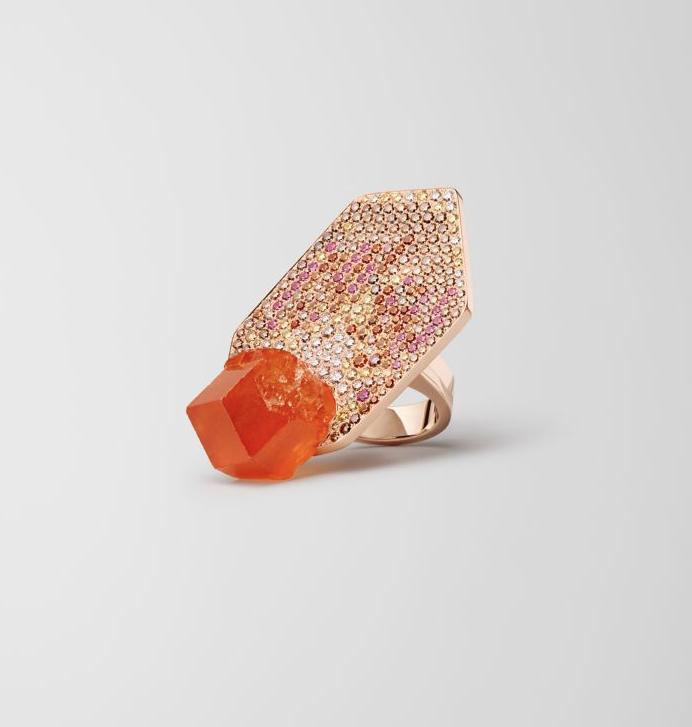 De Beers, The Alchemist of Light, the reflection of majestic light
Last January, De Beers Jewellers unveiled two sets from its fine jewelry collection The Alchemist of Light: Light Rays and Atomique, which magnified and celebrated both the Maison's diamonds and the elemental magic of light radiating from the sun's rays.
This summer, five sets of 45 pieces in total were added to this fine jewelry collection, an ode to light's reflections, which diamonds know how to bring out better than any other gemstone.
This second series is inspired by the interplay of light on the surfaces it illuminates, by day, by night, at dusk, under the clouds or on frozen rivers… Technique, science, innovation and jewelry craftsmanship are as important here as art and imagination. The intense colors reveal the fiery diamonds and their brilliance perfectly mastered by a Maison for which these rare gems hold no secrets.
Ascending Shadow is thus a sculptural interpretation of fan shapes, comprising seven pieces, all in geometrical variations, which play with the light reflections on tiered surfaces. Anodized titanium and aluminum coated in dense shades of pink, blue and green reveal the brilliance of the diamonds, which change from iridescent white to subtle pink, grey, green or pink-brown. The designs can often be converted, such as this piece of head jewelry which can be made into a brooch, with a very beautiful 2.7-carat grey oval-shaped fancy diamond at its center. Or these two pairs of architectural earrings (whose backs are just as delicately set with diamonds), a nod — since inspiration loses nothing by nestling in prosaic details! — to the shape of the spiral staircase in the new De Beers Jewellers boutique on Old Bond Street, London.
Or the very beautiful Midnight Aura set, which carries us into the cosmos, in search of the northern lights, constellations and green clouds of stardust with reflections enhanced by sparkling white diamonds. Black rhodium and African green chrysoprase cabochons reflect back the brilliant-cut or princess-cut diamonds in these five highly desirable pieces where modernity vies with fantasy and technical virtuosity.
A collection of architectural geometric designs which also treats jewelry as works of art, giving wearers the assumed pleasure of becoming an 'alchemist of light' according to Céline Assimon, CEO of De Beers Jewellers.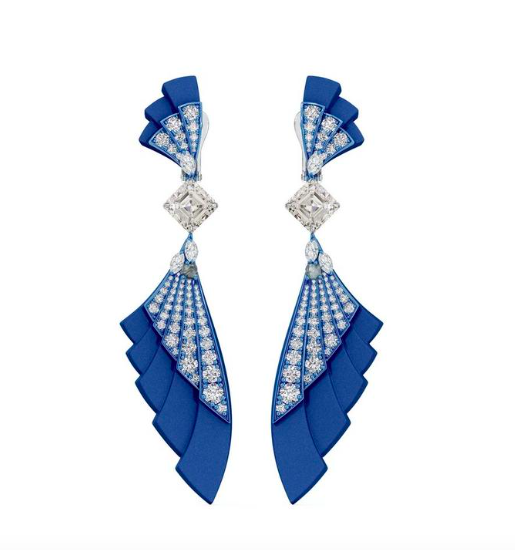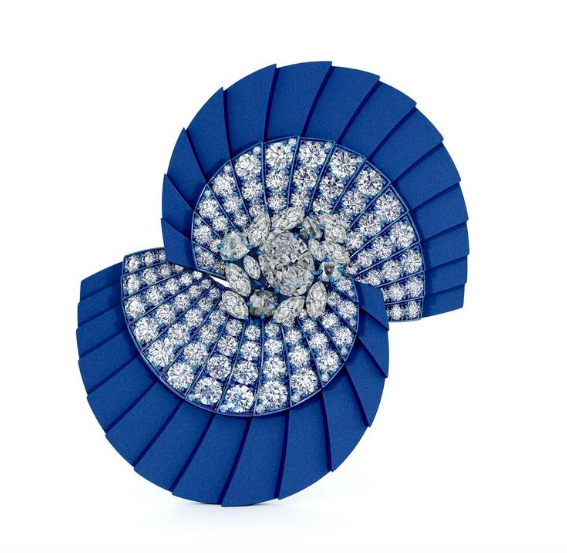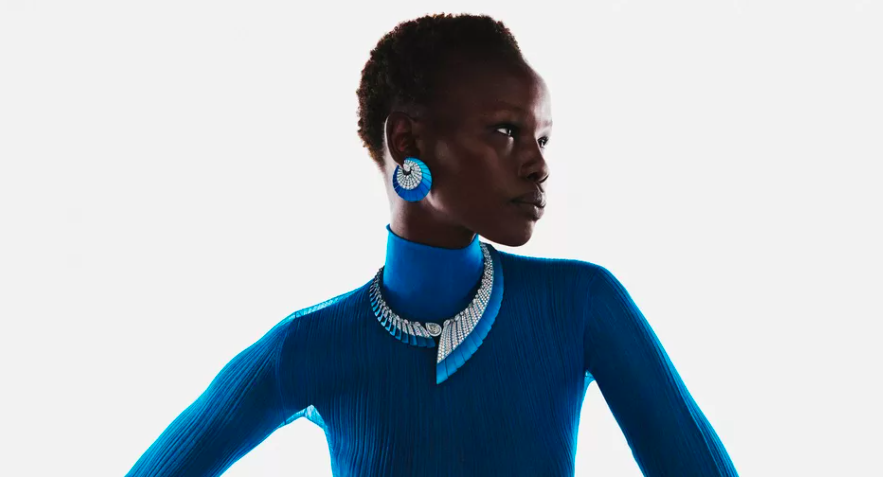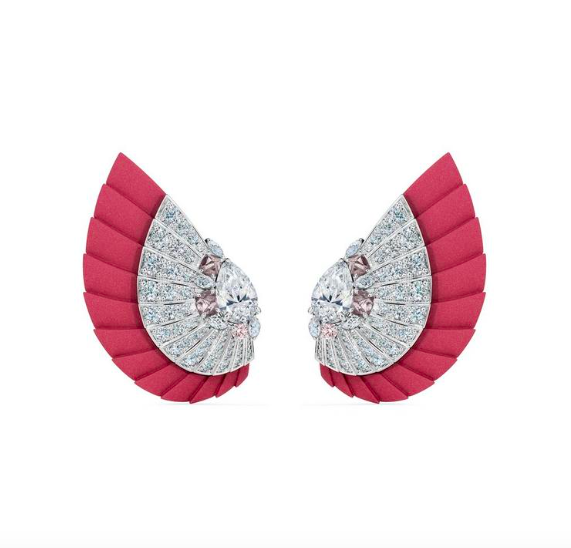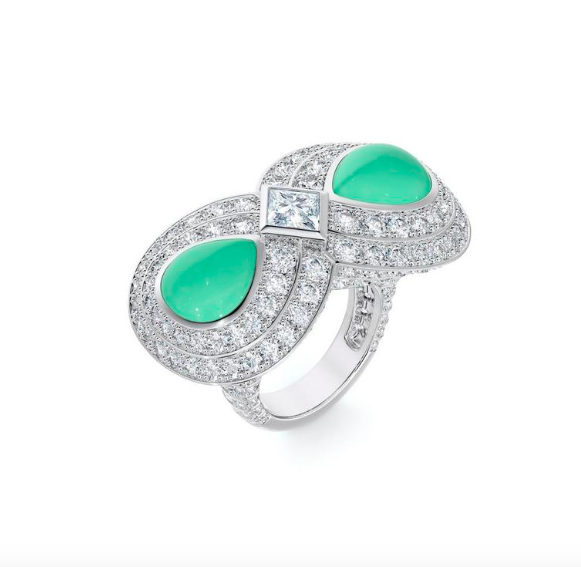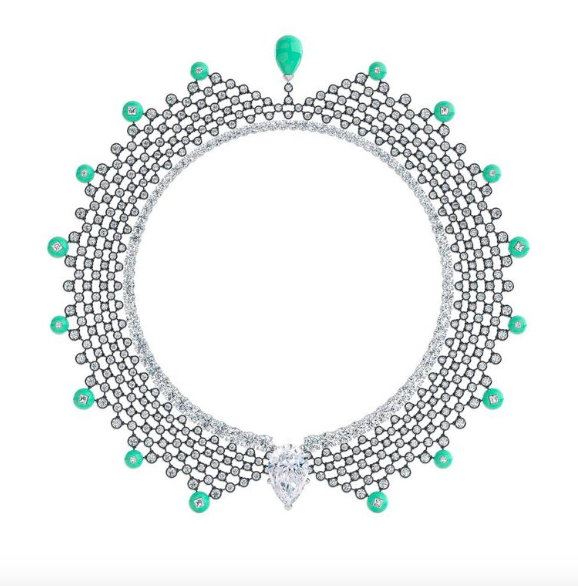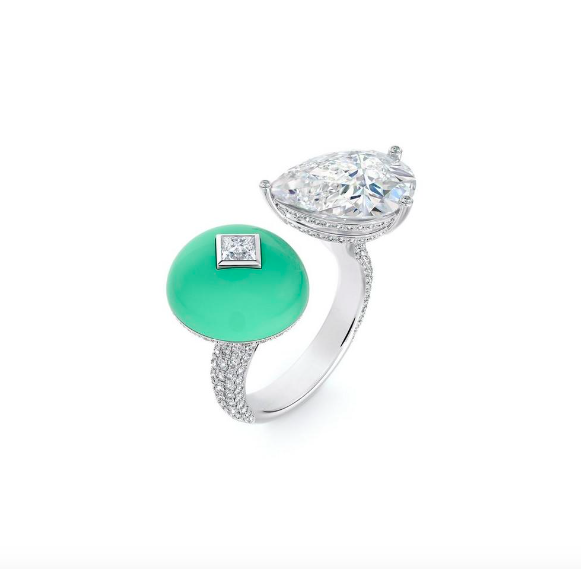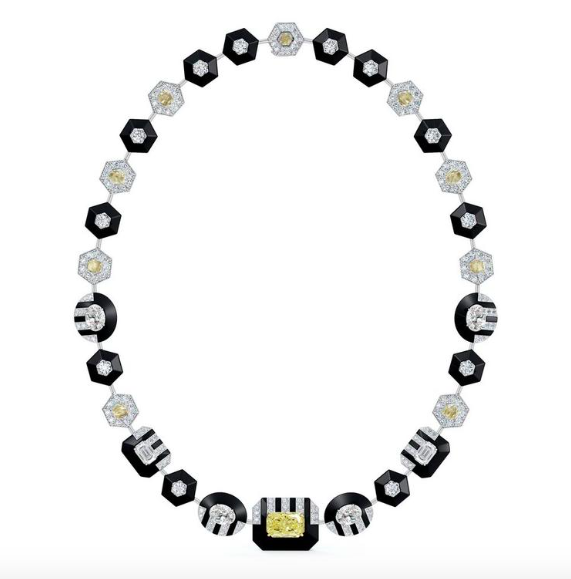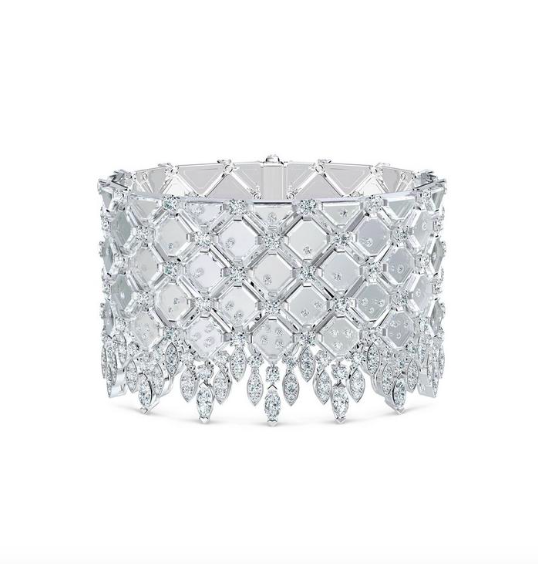 Source Rubel & Ménasché
---
Photo © Hermès, De Beers Jewellers, DR.