Dubai is actively working to position itself to replace Antwerp as the rough diamond-trading center of the world. More then once in the past few weeks this column has dealt with how diamond trading centers promote and advance (or fail to promote) their competitive edge over other centers. Some, such as the U.S. and China, have a unique advantage – a large consumer base – while others invest in technology or actively lobby their governments to legislate laws that support
the local industry.
In Dubai, diamond traders enjoy many benefits, including a 50-year tax amnesty with a zero personal and corporate tax rate, to encourage companies to set-up a business in the small Emirate. With most of the rough diamonds produced in Africa, and most of the diamonds polished in India, Dubai's location right in between them makes it a logical alternative to the more out of the way Antwerp.
In a bid to promote the route – dubbed the "New Silk Road" – the Dubai Multi Commodities Center (DMCC) this week invited diamond-financing bankers and mining ministers from diamond-producing African countries to speak, hear and meet with diamond traders from all over the world.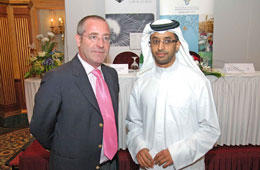 A common sideline conversation among attendees of the two-day event was that Dubai is already an alternative to Antwerp, with many agreeing that Dubai's importance will only grow. This trend was the goal of the two men leading the Dubai effort, DMCC chair Ahmed Bin Sulayem and Dubai Diamond Exchange chair Peter Meeus.
The $39 billion of diamonds traded through Dubai in 2011 (up from $35 billion in 2010) further testifies to the change, though it is yet to close the gap with Antwerp's $56.5 billion diamond trade in that year. Dubai's 2012 figures were not published yet, but Belgium's numbers were down to $52 billion in 2012.
In addition to the goods and tax breaks, every diamond trading center needs supportive financing. ABN AMRO, the leading diamond financing bank, is not fully in Dubai yet, nor are others. Nevertheless, this will change if – or rather when – the need arises.
The rise of Dubai is not only a result of its own efforts to succeed; Belgium has a hand in the shifting situation too. In the past, the Belgian government held a very favorable and supportive attitude towards the diamond industry. However, over the years, stagnation, ineptitude and complacency on the part of the government led to a decline in this support.
But is was a series of raids on diamond firms – and the foot-dragging of enforcement authorities that followed – that served as the first major breaking point.
Diamond firms started moving part or all of their activities out of Antwerp to free them from the unfavorable situation. While Jewish and Israeli-owned businesses moved or opened operations in Israel, Indian-owned businesses, of which there were many, chose to shift their operations to Dubai.
Add to the mix a hostile press and high taxation in Belgium, versus the warm weather and good social offerings in Dubai, and the scales started to tip. The valiant efforts of Ari Epstein and Stephan Fischler, respectively CEO and president of the Antwerp World Diamond Centre, to advance Antwerp through a series of trade events and developing commercial ties with China have slowed the ebb tide, but they have not been able to turn it altogether.
Finally, De Beers' marketing arm, the Diamond Trading Company (DTC) location in London, a short flight from Antwerp, supported Antwerp's position as the leading rough diamond hub. The move to Gaborone, Botswana takes away that crucial support.
The move to Gaborone not only symbolizes the rising role Africa is playing in the company's diamond destiny, but also the declining role Europe is playing in it.
This is not just a lesson in economy and evolution; it is also one of humility. An oft ignored, yet important component of this story has to do with race, and race relations. For the longest time Africans were looked down on by mining companies. Now Africans are taking their destiny into their own hands and they prefer to do business with other non-Europeans.
This is a shift in the making. Putting it cultural and linguistic terms, the diamond industry is nearing an Au Revoir, and practicing an Ahlan[1].
[1] Word for "welcome" in Arabic.