The recent re-launch of the CanadaMark hallmark by Dominion Diamond Corporation is designed to enhance the company's status as Canada's primary diamond mining company. While CanadaMark is essentially a business-to-business (B2B) program that complements the brands of manufacturers and retailers, Dominion is hoping it will create a premium for its exclusively Canadian rough diamond production.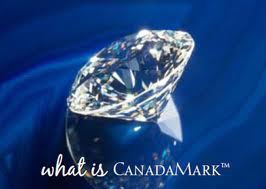 "The CanadaMark program represents the company's commitment to category marketing of Canadian diamonds," Robert Gannicott, Dominion's chief executive officer, said in a May 2014 press release prior to the mark's unveiling at the JCK Las Vegas show in June. Dominion acquired the CanadaMark as part of its 2013 acquisition of the Ekati mine from BHP Billiton, which initially developed the hallmark. "Through this program, [Dominion] aims to highlight the long-term environmental stewardship and social responsibility of the Canadian diamond mining industry, which ultimately will help achieve the highest prices for the company's diamond production," Gannicott added.
As such, the company's direct revenue stream from the program is fairly modest. Currently, only 13 companies are approved CanadaMark manufacturers, while Dominion expects to double that amount by the end of the year. The company estimates that close to 200,000 diamonds have been certified with the CanadaMark hallmark – including those issued by BHP Billiton when it ran the program in the past decade.
James Pounds, Dominion's president, explained to Rapaport News that approved manufacturers pay a nominal annual fee to be a license holder. He added that the company will soon review its decision to waive a fee that was previously charged to issue each certificate.
Still, the program is not about creating additional revenue for Dominion. Rather, the company believes that there are strong marketing opportunities for brands using CanadaMark diamonds that will in turn boost the value of its own rough production.
The company is therefore careful to define the program as a hallmark – a certificate of origin, and not as a brand of its own.
Whereas brands such as the De Beers Forevermark program, for example, claim to guarantee the quality and authenticity of the associated diamond, CanadaMark simply verifies that the stone was mined in Canada. Dominion believes that, in itself, is enough to augment the branding of its manufacturing clients and associated wholesale and retail partners.