Global diamond production sank 6.9% in 2019, the deepest plunge in a decade. By value, production dropped 6.2%. There were good reasons for this, and our updated production forecast calls for an even more significant slide in 2020. 
Diamond production by the numbers
Diamond production totaled 138.2 million carats (mcts) in 2019, according to the latest figures released by the Kimberley Process (KP). The value of this production was $13.6 billion. This is the deepest drop in diamond production since 2009 when the Great Recession led to a deep decline in global economic activity and consumer demand.
Most leading producing countries suffered from a deep drop in production volume, down cumulatively 24.6%. The rest of the producing countries suffered a 14% decline in production.
Russia's production, essentially ALROSA's production, rose despite less demand for rough diamonds. ALROSA's underlying philosophy is that the company will not reduce production in response to reduced demand. It will not reduce prices either. Instead, it churns out goods and waits for demand to rise again. When that happens, they have stocks of the needed goods on hand, while other diamond miners must ramp up production.
There are a few other reasons for this approach, some to do with internal pressures, but until COVID-19 forced its hand, ALROSA maintained this policy.

By value, the 6.2% decline in production is less pronounced and less unusual. In 2018, the total value of diamond production declined 8.9%. In 2010, the value dropped 10.7%. 
The anomaly of rising production in a downward market
The most significant conclusion about the drop in global diamond production is that, in the past few years, there was an oversupply of rough diamonds. The rise in production was a disconnect from real demand and caused a buildup in polished diamond inventories in the manufacturing section of the diamond pipeline.
This decrease in demand started at the consumer level. Consumers in the recent past were less inclined to pay high prices for a diamond jewelry item. This placed pressure on retailers and slowly affected the value chain through wholesaling, manufacturing, rough trade, and production, forcing prices downward. The rise in production only exasperated the situation.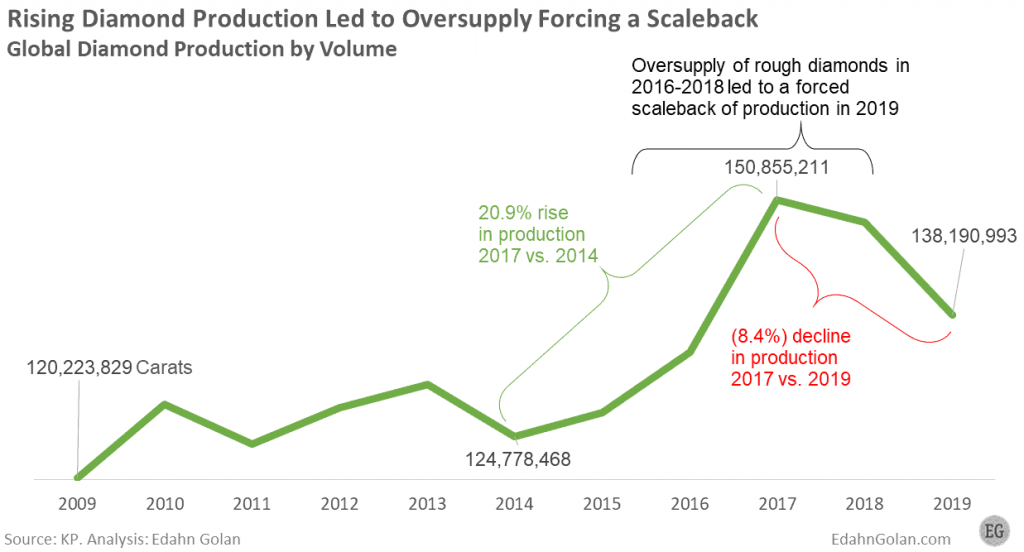 Diamond business hurt by oversupply


During 2016-2018, De Beers, ALROSA, Rio Tinto, and other large diamond producers sold what they mined almost regardless of any large drop in real demand. By doing so, they created the rough diamond glut that hurt the diamond business and eventually forced miners to sharply decrease production in 2019.
Historically, De Beers has decreased supply when prices declined and increased it when prices were too high. The company was widely criticized for this practice. It is ironic that when De Beers did exactly what many demanded they do – to simply sell all rough diamonds they mined regardless of price movement – it proved harmful to the diamond business as a whole.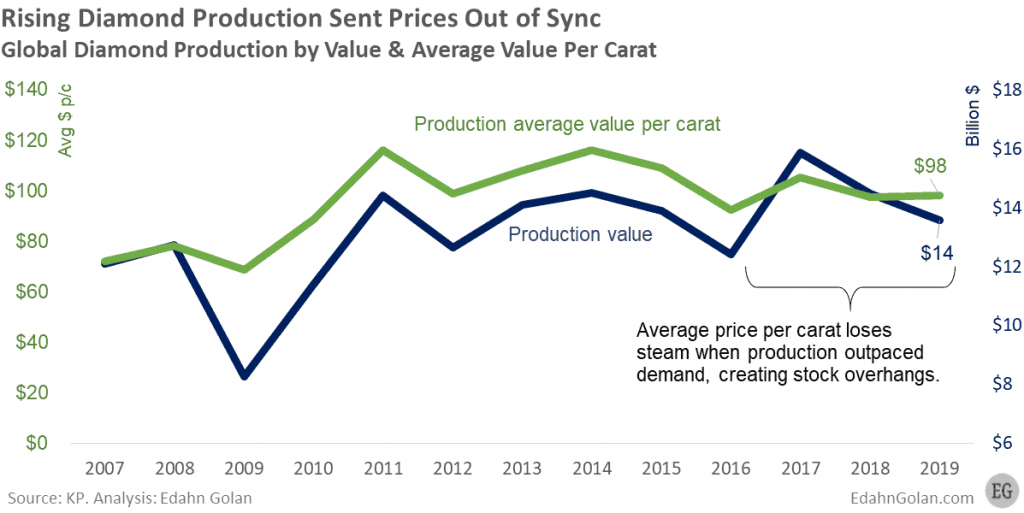 ---
Photo © Debswana, Okavango Diamond Company.