Among the many significant developments that evolved in the diamond industry in 2012 was a growing awareness about price differences between tinted and non-tinted polished stones. Diamond dealers have come to recognize stones with a greenish-brownish tint as having originated from Zimbabwe's Marange mines.Despite their sanctions, there are increasing concerns that these goods are escaping legal limitations undetected and being certified in the U.S. without disclosure. As a result, dealers who recognize them are buying tinted goods at a discount estimated at about 10 percent less than non-tinted goods.
As a cheaper alternative, there is good demand for Marange diamonds as dealers buy them and mix them with non-tinted goods selling them to the unaware end consumer as such at above average margins.
The trade needs to make full disclosure about these diamonds to ensure fair business practice and given their ethical considerations.
Like dealers who recognize the tinted goods, there will come a time when consumers insist on full disclosure to ensure they purchase ethically-sourced, non-tinted diamonds. A series of essays published this week by McKinsey & Company noted that a rising number of consumers around the world say they will pay a premium for sustainable products and prefer to deal with companies whose values they share and trust.
That reality among consumers is a powerful trend the diamond industry can no longer ignore. In so doing, it needs to ensure that sanctions remain in place and provide full disclosure for Marange diamonds.
Instead, the trade has been shaky on both assurances with industry organizations lobbying governments to ease the sanctions and with manufacturers seeking ways to sell their Marange diamonds in those markets where they're not allowed.
In reality, the illegal trade of Marange diamonds has not completely been ironed out in the U.S. or Europe, but instead is providing cutters with an opportunity to significantly profit from these goods.
As explained in the recently published report by Martin Rapaport, chairman of the Rapaport Group, titled "Moral Clarity and the Diamond Industry," if a diamond cutter can buy Marange rough diamonds at a 25 percent discount and cut and effectively mix them with diamonds from legitimate sources, he can make significant profits on the Marange diamonds – by selling them at non-Marange prices.
These cutters will also be able to avoid the inevitable consumer backlash. In most diamond cutting centers, notably in India, Marange diamonds are perfectly legal, and manufacturers there don't face the same reputational risk that U.S. retailers and international brands do, the report pointed out.
"From the U.S. buyer perspective Marange diamonds are poison. Not only are they unethical and illegal, they also destroy the market's level playing field," Rapaport said. "Retailers who cheat buy at lower prices in a highly competitive market environment. Legitimate diamond dealers and retailers are in danger of losing business when forced to compete against sellers of illegal Marange diamonds."
The report concludes that U.S. buyers must insist that Marange goods be separated in the manufacturing process, in the same way that other diamonds are separated: different clarity stones, certified goods versus non-certified or treated or synthetic diamonds from natural diamonds.
Claims made by the World Diamond Council (WDC) and others that separating the Marange goods in the cutting process is not possible are therefore irresponsible and indeed represent a conflict of interests for those organizations — as are their calls to ease the sanctions. Are they acting in the interest of the cutting sector seeking to legitimize the Marange goods at the expense of the vast U.S. industry ?
The Rapaport Group has made its stance clear.
"It is incomprehensible that U.S. retailers and diamond dealers are represented by an organization that advocates the mixing and legitimization of illegal and unethical diamonds. It's bad enough that the WDC is working against the interests of the U.S. diamond industry — but it is outrageous that we are allowing the WDC to represent us against our interests in our name. It is wrong for leaders of the U.S. diamond industry, U.S. companies and trade organizations to legitimize and support an organization that opposes our American laws and values.
"The Rapaport Group calls upon all legitimate members of the diamond trade and especially U.S. members and trade organizations to publicly resign from the World Diamond Council," Rapaport stated in its report.
In an open letter to the trade, Cecelia Gardner, president and chief executive officer of the Jewelers Vigilance Committee (JVC), which serves as legal counsel to the WDC, responded to calls for the JVC to end its representation of the WDC. She concluded that maintaining its position in the WDC is the right course of action in order to continue to bring the U.S. perspectives on legal compliance, ethics and integrity to the international community. Gardner weighed the challenge facing the U.S. in participating in the WDC, which may not adequately reflect the U.S. jewelry industry or American jeweler, given the organization's many conflicting international commercial interests.
JVC's decision will likely come back to haunt it. Rather than advance the U.S. industry's cause, the U.S., and the JVC, will likely be forced to compromise its values as it did in the Zimbabwe discussion within the WDC and the Kimberley Process (KP). It will happen again. The KP is too miner-centric and the WDC too cutter-focused for the discussion to evolve otherwise.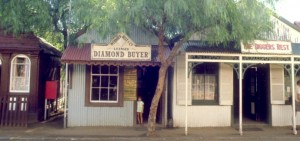 JVC's resignation, on the other hand, would avoid that compromise and send a clear and important message regarding U.S. jeweler and consumer interests and values.
The same concern over compromising values can be expressed for Europe. This week, Global Witness warned European leaders not to heed calls from Belgium to drop sanctions against Zimbabwe's diamond mining interests, but to strengthen measures which restrict sales of Marange diamonds to Europe.
Every group has its own interests at heart. As Global Witness asserts, the Belgian government may be claiming concern for the Zimbabwean people; but its true interests are closer to home in the diamond markets of Antwerp. Dealers there and in India are seeking further opportunities to sell their Marange wares.
Zimbabwe hasn't had a shortage of buyers for its rough although it may have been hoping for a stronger economic environment to enable better prices. The country is said to have reached production of about 12 million carats in 2012 and is expected to ramp up to 16.9 million carats this year, according to Zimbabwe finance minister Tendai Biti's proposed budget statement issued in November. The latest KP data shows 2011 production at 8.5 million carats.
Biti continues to note a shortfall in the treasury's diamond revenues. He reported that while diamond exports more than doubled year on year to $563 million in the first 10 months of 2012, only $43 million in diamond dividend revenue was remitted to the treasury to that date.
"Although U.S. sanctions exist against Marange Resources, they do not explain non-remittance of resources where sales and exports have taken place," he said. "We cannot afford to create an impression or insinuation that there is corruption or parallel fiscal activities connected with our diamonds."
The claim adds credence to Global Witness's assertion that diamond revenues are being channeled to Zanu-PF controlled security forces, presenting a serious risk that diamond revenues could be used to fund violence in this year's election. The concern serves as sufficient reminder of why sanctions were necessary in the first place.
Ultimately, Zimbabwe will continue to sell its diamonds and cutters will seek ways to push them to the market. It is up to the trade, and its representatives, to ensure they don't compromise their legal position or values. As the Rapaport report concludes, "Companies must recognize that supply chain management should not just be about damage control; it should be about getting higher prices for ethically sourced diamonds and branded jewelry."
The recent premiums required for non-tinted versus tinted goods on the dealer market are testament to that. Ultimately, consumers will follow. They are prepared to pay and will demand ethically sourced products from the trade. The diamond industry has no choice but to act in those interests.