New York – The Diamond Empowerment Fund announced Tuesday that its board of directors approved the granting of funds to its three existing beneficiaries – the African Leadership Academy, Botswana Top Achievers Program and CIDA City Campus – as well as an additional $15,000 donation to the Flaviana Matata Foundation.
DEF raised the funds, which total $240,000, during its Diamonds in the Sky event held at the Four Seasons Hotel in Las Vegas this past May. The event was sponsored by a number of industry leaders, including De Beers, Rio Tinto, Signet Jewelers, Chow Tai Fook Jewellery Group, KGK Group, Le Vian and Tiffany & Co.
CIDA City Campus is South Africa's first nonprofit university to offer a four-year business degree. The school has an 80 percent employment rate among graduates.
The African Leadership Academy is a university preparatory school in Johannesburg that operates on the belief that ethical leadership is the key to sustainable development on the continent. The student body is comprised of students from all 54 countries in Africa.
The Botswana Top Achievers program provides the top high school students across the country with the opportunity to study at a university of their choice anywhere in the world, after which graduates return to Botswana to contribute to its economic, social and political development.
The new beneficiary, Tanzania-based Flaviana Matata Foundation, was founded by model and DEF ambassador Flaviana Matata to educate and improve the livelihood of youths in the country.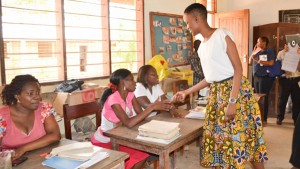 Read :
 Doctor Benjamin Chavis, DEF – "Education is fundamental to sustainable development throughout the world"
---
Picture DEF and mashughuliblog.com