De Beers used to spread the message that "A Diamond Is Forever" around Grand Central Station at holiday time, appealing to the 750,000+ commuters crisscrossing the classic transit hub every day. 
This year, the diamond miner and marketer is at it again, but now its promoting lab-grown diamonds at the Oculus, the two-year-old, ultra-modern transit hub at the site of the rebuilt World Trade Center.
Call it a sign of the times.
Back in September De Beers launched Lightbox, a line of moderately priced (the most expensive pieces on the site, 1-carat diamonds set in 10-karat gold, are $1,000) fashion jewelry set with man-made diamonds grown by its Element Six arm in the United Kingdom.
The line is fairly limited at this point—just blue, pink and white lab-grown diamonds set in either pendants or earrings, with blue and pink studs the runaway successes so far, said Lightbox Head of Marketing Sally Morrison.
It was sold online only, which means consumers haven't had a chance to see, touch and feel it—until the 24th of November.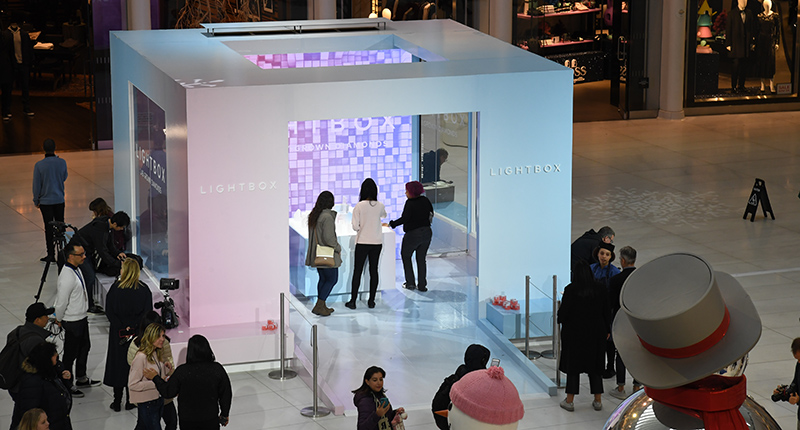 On Monday the 24th, Lightbox opened a pop-up shop at the Oculus, and this editor popped by Tuesday afternoon around 3:30, shortly before evening rush hour was in full effect, and lingered until a little after 5.