With Mother's Day and its merry-go-round of gifts approaching, we wanted to dive into the fine jewelry collections of the great maisons, to find the most exquisite diamond-paved designs. These collections, an inexhaustible source of inspiration, vie with each other for technical mastery…
Chaumet, Louis Vuitton, Cartier and Tiffany & Co., each Maison champions its own heritage, from which it draws inspiration and passion.
Chaumet's Déferlante collection, the impulse of life
The tiara Maison has designed and created a capsule collection of fine jewelry that captures movement, light and 'waves' in diamonds and white gold. A beautiful tribute to the queen of gems, which is magnified as never before and enhanced by white gold. The movement is palpable in each piece!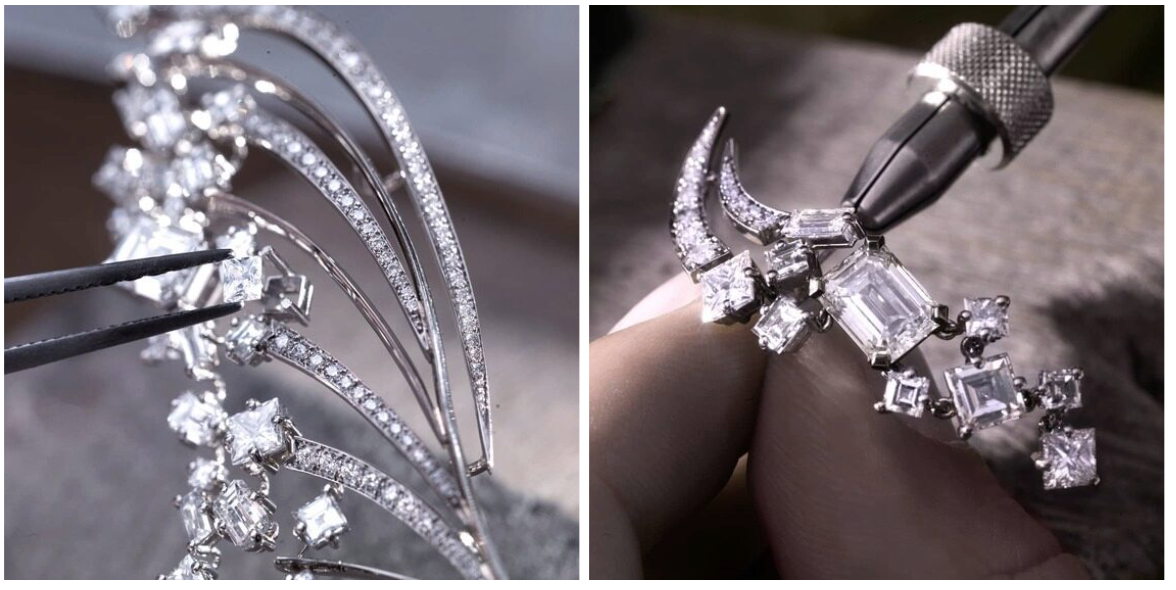 Thus, this Déferlante tiara is set with fancy princess-cut and square-cut, brilliant-cut and baguette-cut diamonds, each one more sparkling than the last. 1,600 stones finely arranged thanks to the fil-couteau technique and directly depicting waves surging and 'leaping directly onto the shore'. This symbolic piece draws on the Maison's tradition, but with an approach championing modernity and considerable technical mastery.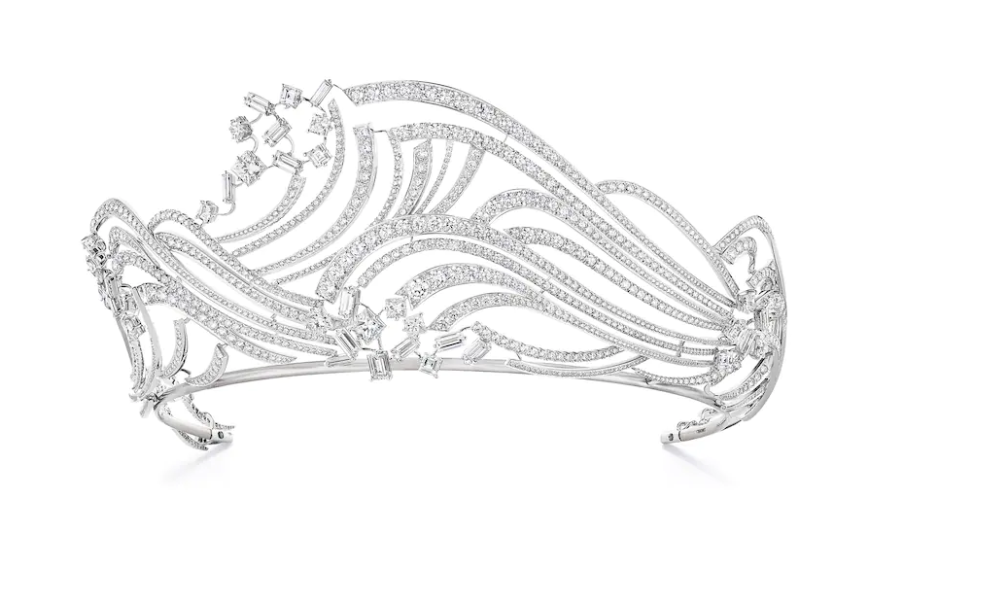 Then there is the 'Déferlante' brooch, with seven waves of diamonds, also with multiple fancy cuts, including square, brilliant, princess and baguette cuts, and this 'Déferlante' necklace with stones that look like pebbles being rolled along in the current.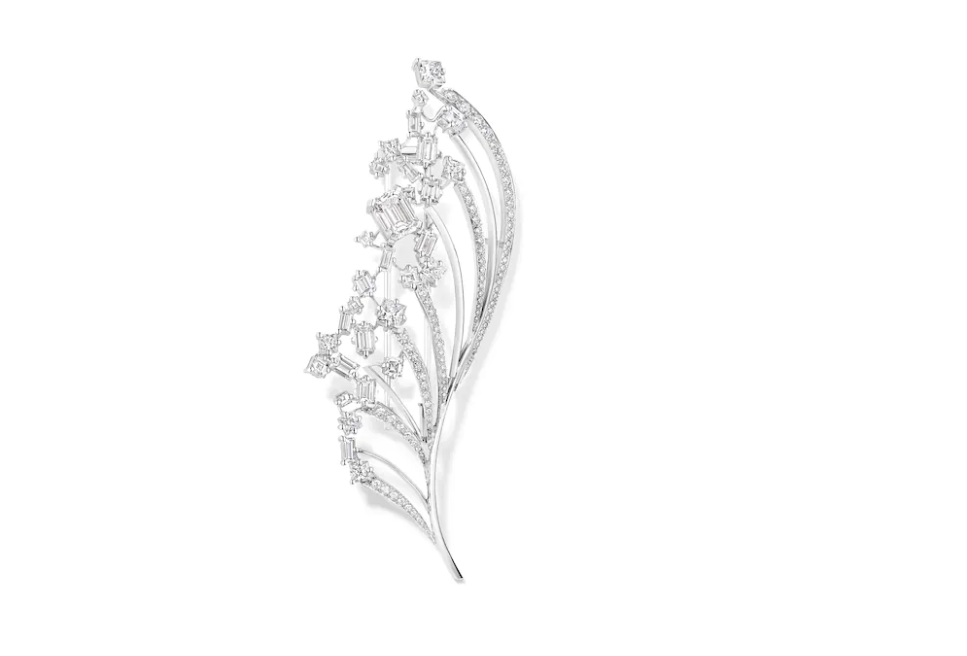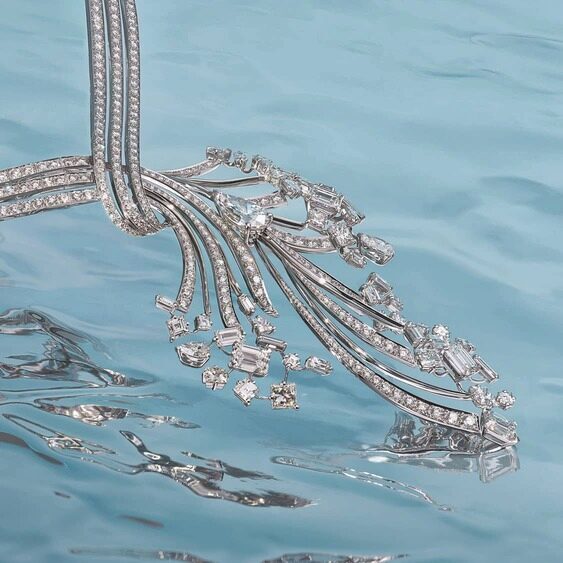 Bravery by Louis Vuitton, a metaphorical journey and symbolic monograms
In 2021, Louis Vuitton unveiled a fine jewelry collection inspired by its founder, an innovative and world-famous master trunk-maker born in 1821 in the Jura mountains. A bold and unexpected challenge has resulted in a collection of 90 pieces of fine jewelry, designed by Francesca Amfitheatof, the brand's Artistic Director, Watches and Jewelry. The heritage of the French Maison, which symbolizes the revival of luxury, shines through these pieces. The collection first addresses the founder's 'life journey' (he had the courage – hence 'Bravery' – to leave his native Jura at age 13, and travel alone to Paris and build his career) and then draws direct inspiration from the geometric and individual 'components' of the trunk, such as locks, studs and clasps. These strong geometric pieces have both a classic and modern feel. The necklaces are particularly impressive, set with remarkable stones where the diamonds form either the background or the highlight.
There is so much to say about each piece of jewelry!
Let's linger a while on La Star du Nord, a necklace in white gold with two rows entirely paved with diamonds. This, of course, is the North Star, a navigational aid for travelers and for Louis in his time. A diamond knot, reminiscent of the inside of trunks, is interspersed with a Monogram flower, LV Monogram Star cut and a D IF IIa diamond of 10.07 carats, which can be worn in many ways, since the flower is also available as a ring.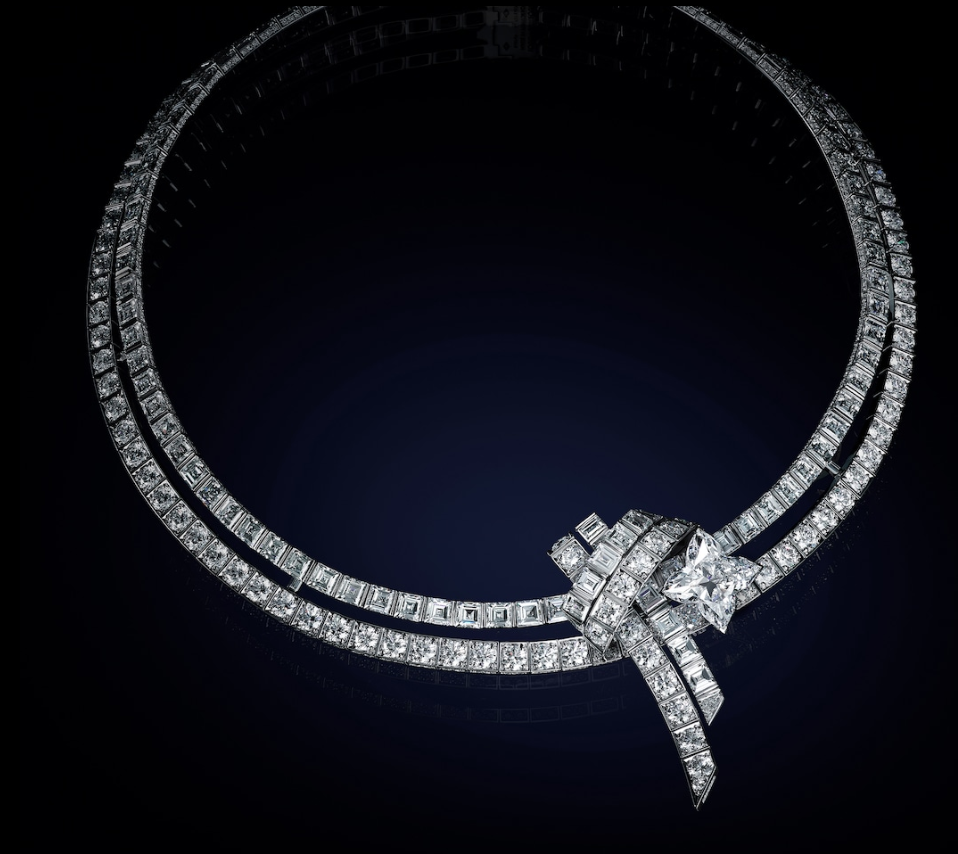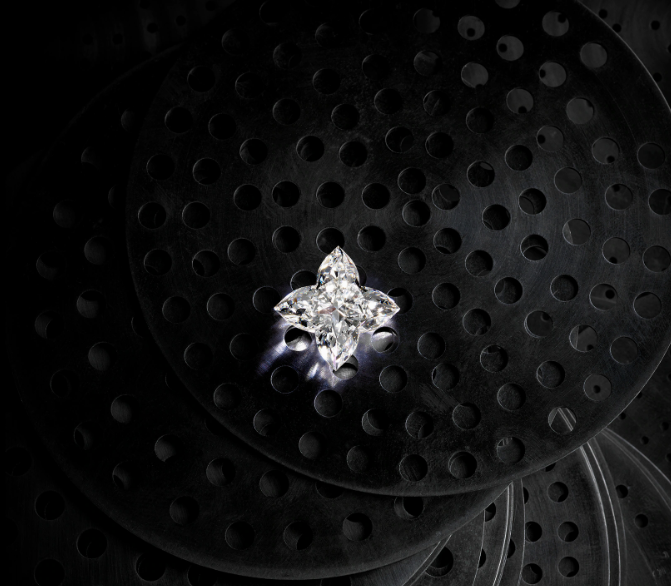 Then, let's tarry a moment with Le Mythe necklace with three rows of diamonds and three dazzling sugarloaf cabochons (two sapphires and an emerald) that brings together so many of Louis Vuitton's stylistic codes: checkerboards, studs, lock motifs and Monogram flowers.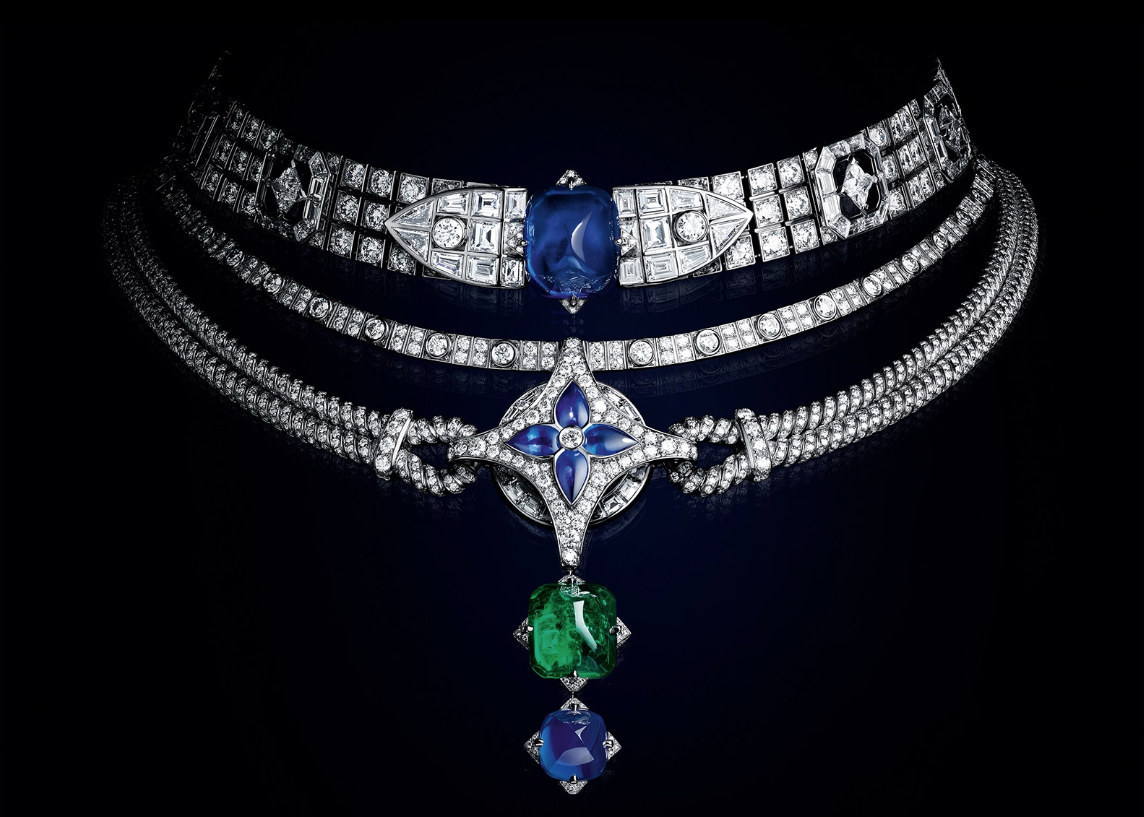 Sixième Sens par Cartier, the soulfulness of absolute technical mastery
For this fine jewelry collection, the Maison of Cartier has chosen to unveil and transcribe the quintessence of fine jewelry into stunning pieces, which it describes as "the soulfulness of fine jewelry, the expression of an art that moves and inspires like no other." It is a celebration of the expertise of designers, stone cutters and jewelers. We rediscover the Maison's iconic style codes – the panther motif, the Art Deco style, the checkerboard pattern, both a chromatic and two-tone intensity, creating architectural and imposing pieces with perfectly harmonious proportions – magnified by diamonds galore. The result is an incredible technical mastery and wearability, where flexibility is never neglected.
The Synesthesia necklace in emeralds and diamonds is thus very representative of the Cartier style, with its volume and flexibility, where the brilliance of the central 35-carat hexagonal emerald is enhanced by divine white diamonds. Two imposing ribbons of individually selected stones, assembled with the utmost precision, offer a beautiful lesson in fine jewelry savoir-faire.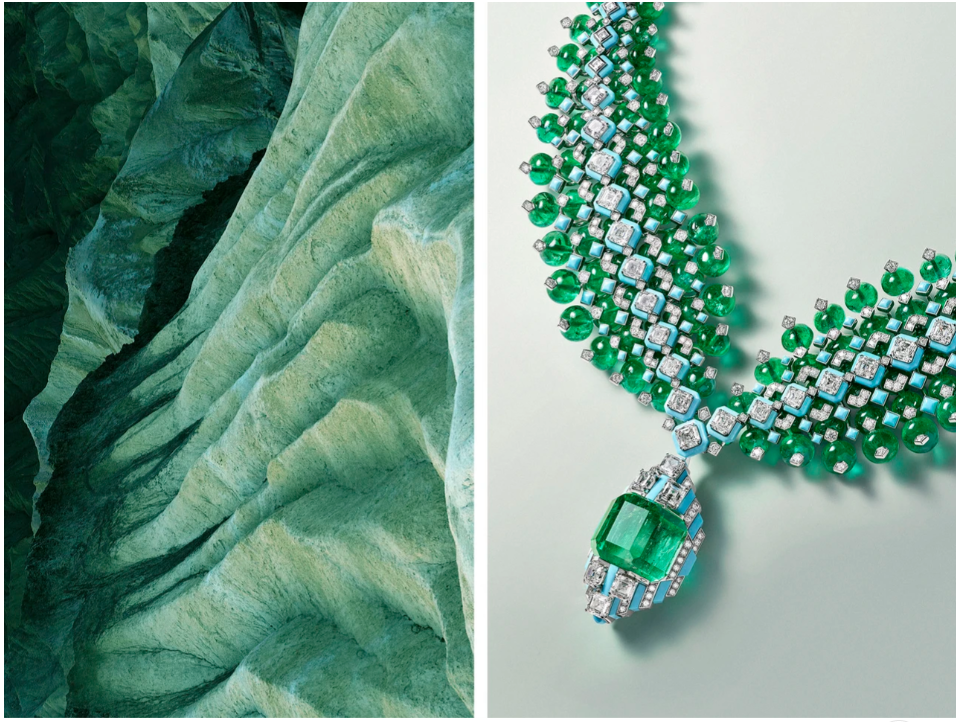 Also, the figurative Meridian necklace features a modern two-tone checkerboard pattern, by playing with the black and white of diamonds, onyx and rock crystal, each of which, in its own way, reflects the light and fills us with emotion.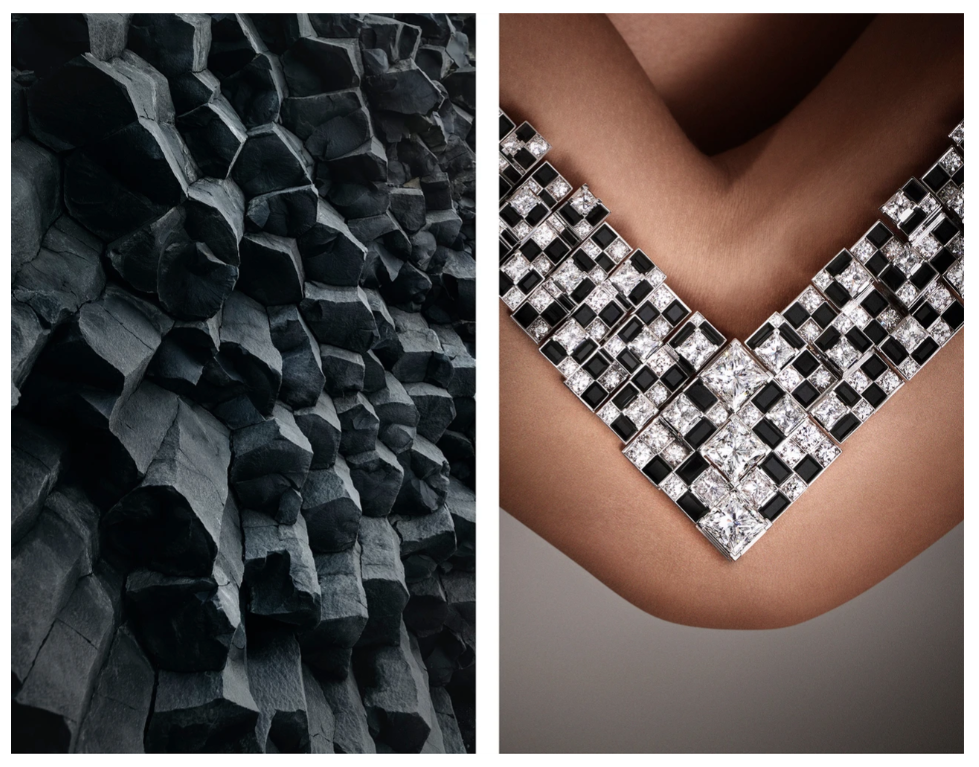 And finally, the Pixelage necklace, which unquestionably succeeds in achieving the tour de force of combining its gems, onyx, white, yellow and orange diamonds, in a perfectly mastered geometric and technical feat to represent the panther's coat, the star of the Maison.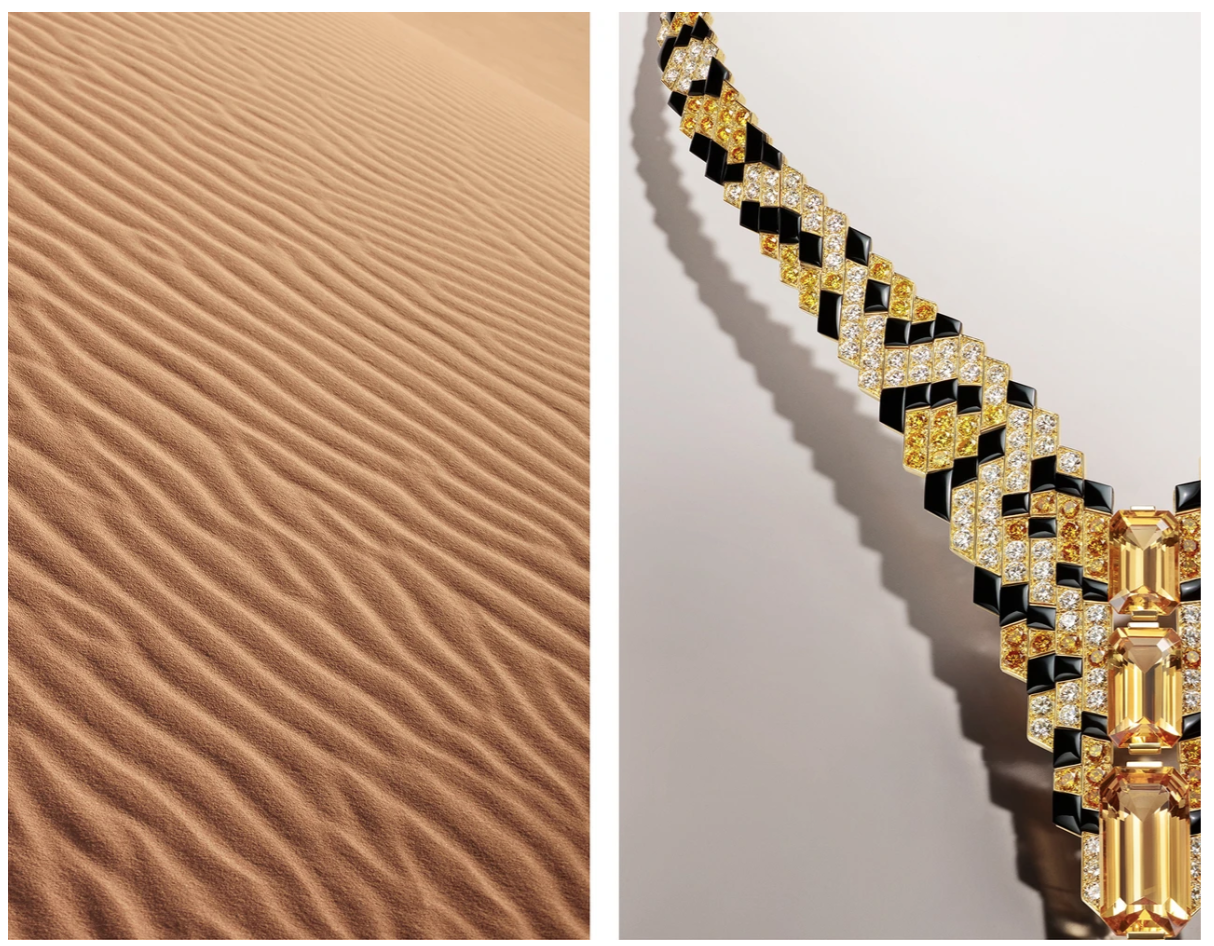 In the words of Pierre Raneiro, Director of Style, Image and Heritage, Cartier has given itself the right: "to bring new visions of what is beautiful and to explore all possibilities…"
Tiffany & Co. Botanica, the wealth of flora illuminates the 2022 Blue Book
Tiffany & Co. amplifies the abundant and luxuriant flora in its 2022 Blue Book , notably by paying tribute to its famous designer Jean Schlumberger and by mixing old designs with iconic motifs and new creations.
The Fleurage bracelet, composed of diamond flowers, all set by hand, arranged around a 48-carat cushion-cut aquamarine, was inspired by an original sketch by Jean Schlumberger. It has now been transformed for the first time into a sumptuous piece of jewelry.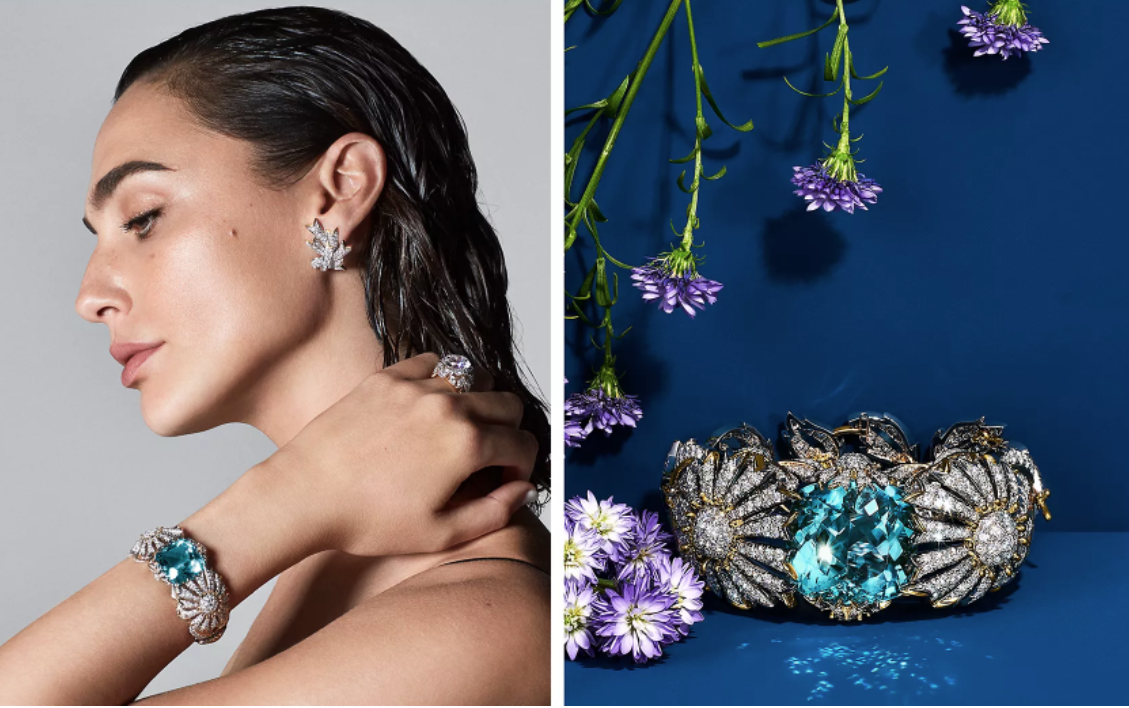 In addition, the Fleurs et Feuilles necklace, also by Jean Schlumberger, originally produced in the 1950s, and entirely set with diamonds is luminous and has such a contemporary feel.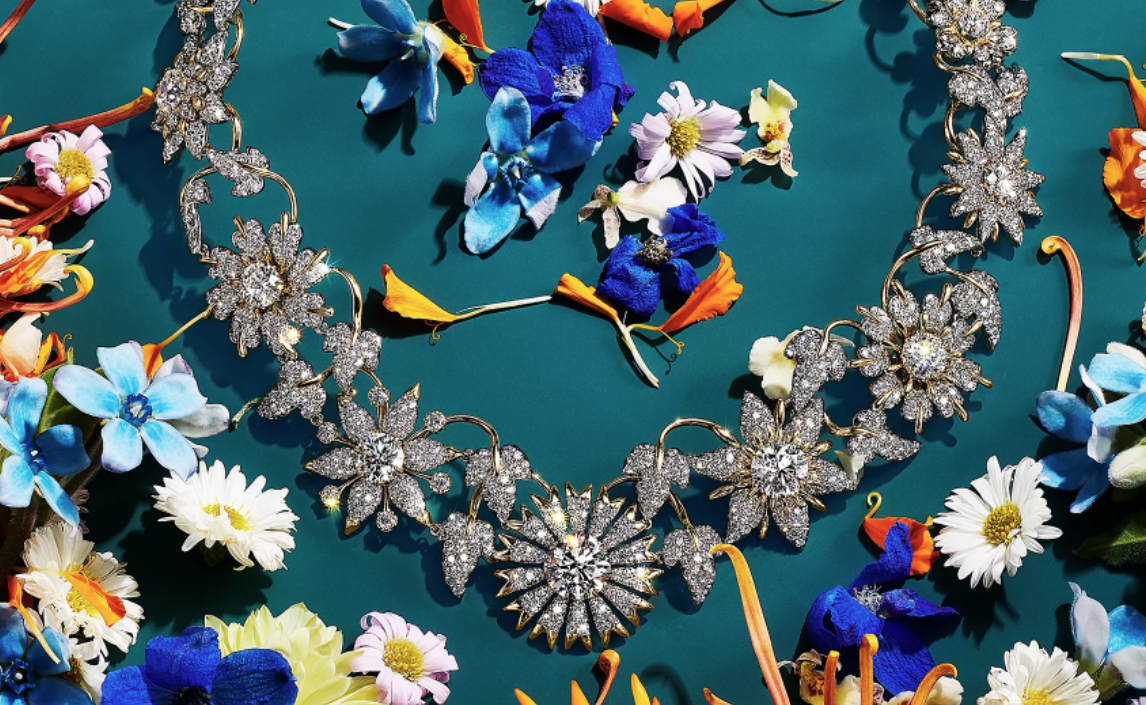 Many of the pieces have many parts and can be transformed, by mixing and matching to wear them in a variety of ways. While the orchid is truly exceptional, we cannot deny either the thistle or the dandelion the 'timeless beauty' of flowers expressed in all their forms!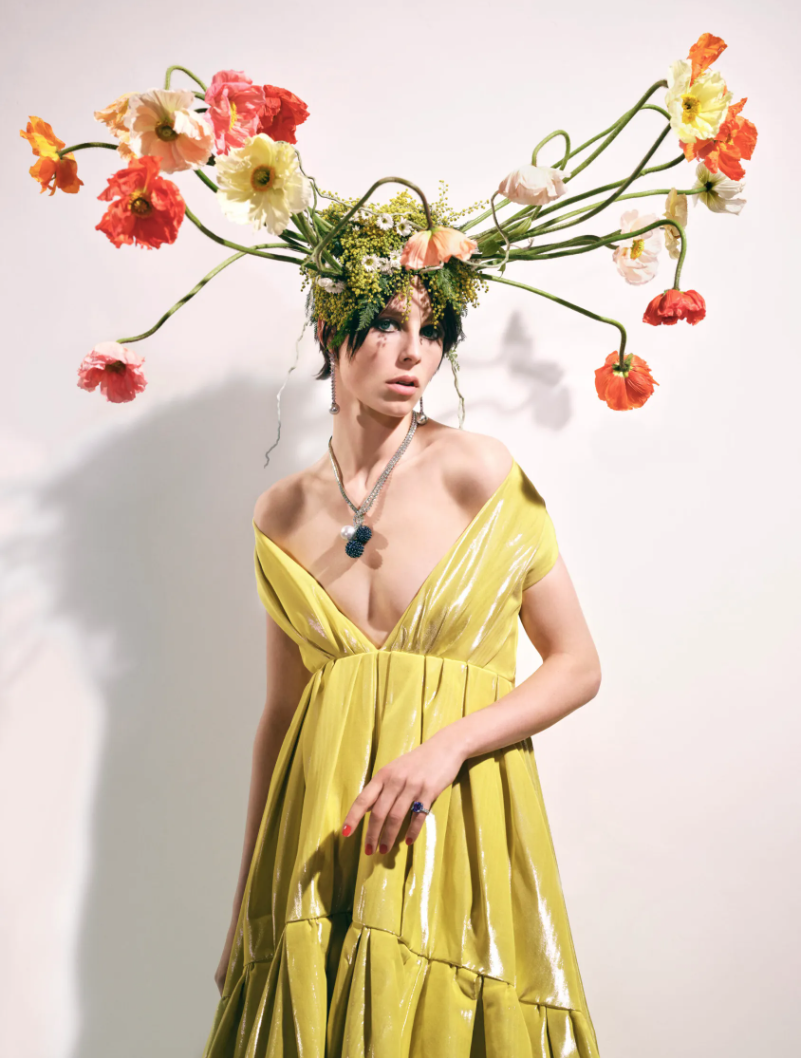 These collections feature an abundance of diamonds and white gold, fancy cuts, strong, geometric or abstract pieces, allegories of nature and flora. They are a celebration of the 'work of art' jewelry… especially for those who will have the pleasure of wearing them!
Source Rubel & Ménasché
Also read:
Diamond-paved jewelry and fine jewelry collections are bringing back the magic into our daily lives (3/02/22)
---
Photos © Chaumet, Louis Vuitton, Cartier, Tiffany & Co, DR.