A pink diamond ring named for its resemblance to bubble gum fetched $7.5 million at Christie's Hong Kong auction. 
The rare cushion modified brilliant-cut, 3.43-carat, fancy-vivid-purplish-pink, internally flawless diamond sold for $2.2 million per carat. The ring, designed by Moussaieff, features pear-shaped pink diamonds and marquise-cut white diamonds surrounding the center stone. It had been estimated at $6 million to $8 million. The piece was the top-selling lot at the Magnificent Jewels sale, which garnered a combined $44.6 million.
Other notable pieces include a pair of Grand Muzos earrings, set with two Colombian emeralds weighing 23.34 carats and 23.18 carats, as well as white diamonds and pearls. The lot sold for $4.5 million, within its $4 million to $6.5 million valuation. A jadeite cabochon ring and a pair of jadeite cabochon earrings both doubled their low estimates after "spirited" bidding, Christie's noted. The pieces sold for $1.2 million each, against presale estimates of $580,000 to $800,000.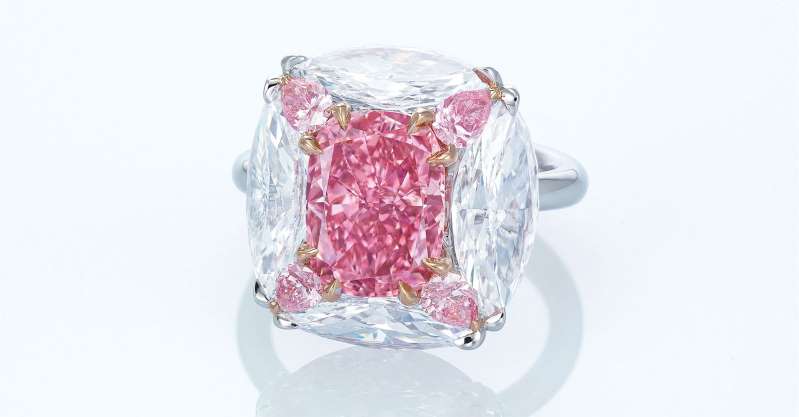 Meanwhile, the second-highest lot, a cut-cornered rectangular step-cut, 3.01-carat, fancy-vivid-blue diamond ring with two heart brilliant-cut, fancy-intense-purple-pink diamonds on either side, was withdrawn from the sale. The piece was valued at $4.7 million to $7 million. A cushion-shaped, 26.41-carat Kashmir sapphire brooch, surrounded by old-cut diamonds, which carried an estimate of $4 million to $6.5 million, failed to find a buyer.
---
Photo © Christie's.