The Fancy Color Diamond Index (FCDI™) rose in the second quarter, driven mainly by the blue-diamond categories, according to the Fancy Color Research Foundation. Fancy-color diamonds continued to outperform, showing price strength amid a backdrop of declines in their white counterparts during the second quarter.
Based on a survey of more than 20 wholesale traders, analyzed by the FCRF and reviewed by accounting firm Citrin Cooperman, the index evealed prices of fancy-color diamonds across the pink-, yellow- and blue-categories, increased 1% over April to July. The strongest performers included 1-ct fancy blue and 1-ct fancy vivid yellow, both up 4% each. Fancy vivid blue in the 3-10ct range jumped 4-6%. A significant advance of 5-6% was noted in 8-10ct pinks, both intense and vivid. In most categories, the increase in prices was because of lower supply.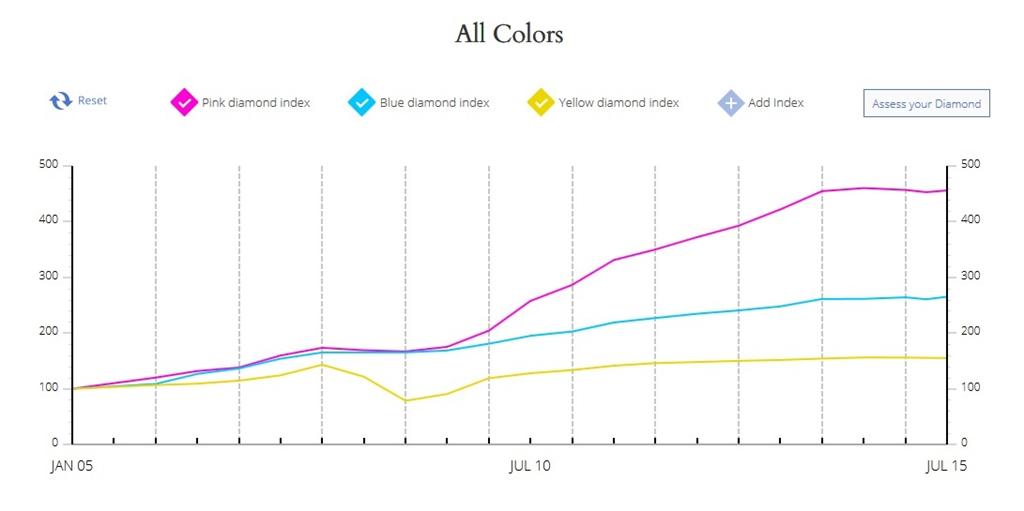 Price weakness among white diamonds continued during the period under review as polished inventories accumulated across the supply chain. According to the RapNet Diamond Index (RAPI™), 1-carat diamonds prices slid 1.6% over the same period.