From March 27 to April 3, 2014, Baselworld will once again bring together the professionals and lovers of fine watch-making. This major fair gathers the top Swiss watchmakers and representatives of world watch-making and jewelry.
In these last few days of February, Basel is already bubbling over with excitement. Only one month to go before its big show, eagerly awaited every year: Baselworld, the "World Watch and Jewellery Show", which will take place from March 27 to April 3. The construction and setting-up of the fair have begun since February 10.
For professionals, visitors, exhibitors and lovers of timepieces (Baselworld is open to the public), this exceptional event will be the opportunity to discover future collections and trends, jealously kept secret by the top houses. 2013 had shown record attendance: more than 120,000 people had roamed the sweeping halls of the fair. Last year also unveiled the new concept of Baselworld, which was remodeled by the architects Herzog & de Meuron (more than 140,000 m² and 430 million Swiss francs) and met with enthusiasm. Furthermore, 2013 is considered a good year for Swiss watch-making as a whole (source FH) with exports having exceeded expectations and reaching the equivalent of 21.8 billion Swiss francs.
2014 thus seems promising. Close to 1,500 exhibitors will vie with each other in originality to present prestigious showcases, choice settings to enhance the elegance of their creations and show their excellent expertise to all. Baselworld is excellent publicity and attracts world press, and not just the professional one. There is indeed no need to mention that, while the global luxury industry is doing well, watches, high-end bags and jewelry are its symbols…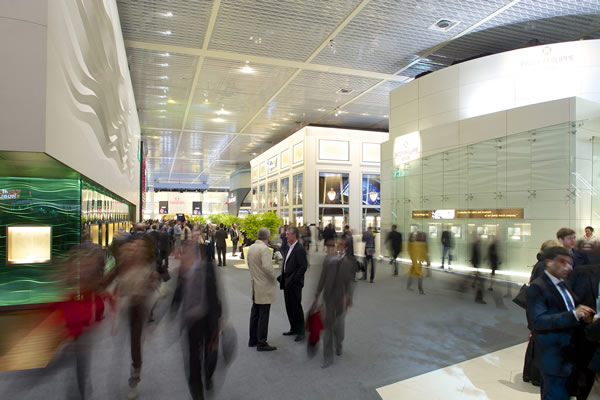 Practical information
Baselworld 2014, March 27 – April 3, Messe Basel/Basel Fair, Switzerland
Opening hours: every day from 9am to 6pm; Thursday, April 3, from 9am to 4pm.
For more information:
www.baselword.com
Please note: Baselworld 2015 from March 19 to March 26, 2015
---

Photos Baselworld