Press release – ALROSA reports preliminary rough and polished sales results for June 2021.
ALROSA sales of rough and polished diamonds in June totaled $410 million, including proceeds from rough diamond sales of $374 million, and polished diamond sales of $36 million including proceeds from the sale of 100.94-carat the Spectacle gem.
For six months of 2021, total rough and polished diamond sales accounted for $2,336 million, including $2,229 million of rough diamond sales and $106 million of polished.
"Demand for rough diamonds remains high. Diamond jewelry enjoy strong demand across all the key markets while rough diamond stocks at the Indian mid-stream segment are kept low. At the same time, miners' rough stocks hit a rock bottom levels as supply structurally dropped at a number of assets. Like for like price index for rough diamonds has significantly recovered year-to-date to pre-COVID level. We see a limited risk of any meaningful supply response from the miners' side. Thus, the rough market enters a long period of supply deficit. ALROSA does its best to ensure the sustainability of the whole diamond value chain. We maintain a balanced approach to prices and volumes, supporting the long-term stability of the market," – said Evgeny Agureev, Deputy CEO of ALROSA.
ALROSA Group rough and polished diamond sales in 2021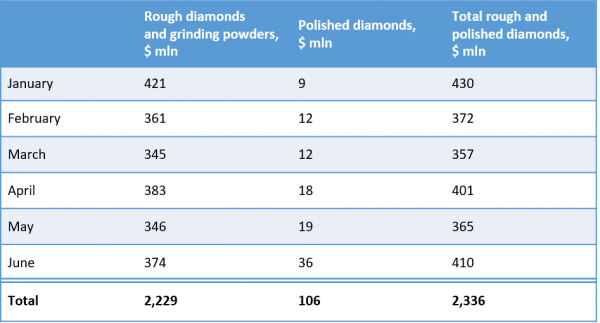 ---
Monthly sales results are preliminary and may be updated. Possible discrepancies are due to rounding. Data on the diamond market is the Company's estimate based on the information available at the time of publication. More detailed Information on sales results the company discloses on a quarterly basis in its Trading updates along with operational results. Official information on the company's revenue is disclosed in its consolidated IFRS results for the corresponding periods. Preliminary dates of such publications are available in Investor calendar.