Among the many interesting aspects of the recent trade-press tour of ALROSA's operations in the Yakutia Republic was the fact that it happened. The Russia-based diamond mining company has become a more focused, transparent, media-and-investor friendly operation ahead of its prospective initial public offering (IPO) planned for October of this year.
By 2018, the company plans to sell its non-core assets, raise production and reach its goal to become the largest diamond miner by value. Igor Sobolev, first vice president at ALROSA and executive director responsible for mining operations, is confident its goals are well within reach, "with a little help from the market." ALROSA believes it has the best opportunity to increase production among its competitors.
Already, the company is the world's largest diamond producer by volume with steady annual production of around 34 million carats. It expects to increase that to 38 to 40 million carats by 2020 before settling back to 34 million carats in the longer term – around 2035.
Unlike most of its peers, ALROSA has maintained steady production throughout the volatility of the past five years. Closing a mine is difficult and reducing production compromises operating efficiency, according to Sobolev. Rather, when times are tough, the company prefers to maintain its operations and has the "competitive advantage" of being able to sell excess production to the state, as it sold RUB 1 billion (about $317 million) worth of goods to Gokhran in the second half of 2012. ALROSA's relationship with Gokhran will continue even after the IPO because the company will remain state-controlled, Sobolev assured.
Going underground
Even with that state backup, keeping costs down is a significant challenge for ALROSA as it has to dig deeper at its ageing mines and explore farther to find new ones. Of its 10 operating mines – that is, nine mines plus the Almaz Anbar alluvial and tailings operations – the Mir, International and Aikhal mines are already underground, while the Udachniy underground mine is being developed at a capital outlay of $1.5 billion and is scheduled to fully transition by 2015.
Going underground significantly extends the life of mine. At International (pictured, courtesy ALROSA), for example, open pit mining was completed in 1980 and the mine lay dormant until the underground operation was commissioned in 1991. The project has enabled consistent production of 500,000 tons of ore a year, anticipated to continue through 2021 before its forecasted depletion two years later.
ALROSA has a total diamond reserve of 1.154 billion carats spread across its four mining divisions. Geographically, the bulk of its production comes from the Yakutia Republic, a vast 3.1 million square kilometer territory about 8,000 kilometers north east of Moscow. The region's contribution is projected to decline from 34 million carats to 24 million carats by 2035 while ALROSA's Severelmaz operation – located in the Arkhangelsk region – is forecasted to ramp up production from 559,000 carats in 2012 to 10 million carats annually over the next 20 years to make up for the declines at Yakutia.
Wider & deeper
However, Yakutia remains the heart of ALROSA. The majority of the company's mines are located there and it is the most likely area to find new deposits, which, Sobolev adds, is highly probable. In addition, the company is looking at exploration opportunities in Africa, particularly in Angola and Botswana, where various projects should yield preliminary results within three years.
ALROSA has also invested in innovation to meet its long-term production goals. Among these are programs aiming to better preserve the integrity of the diamond through the production process and an ambitious project to introduce remote control mining in 2014 that will make it possible to reach deeper reserves that are not possible today.
IPO update
If it seems ALROSA is squarely focused on production that is the intention. There was little mention of branding, generic marketing or going upstream during the four-day press tour. The company's proportionally small polished diamond sales intended for price discovery is as far as it goes.
And it appears to be drumming the point ahead of the IPO. The company has stated plans to offload its non-core assets such as its hydro-power, gas, oil and agriculture facilities by 2018. It has already sold the Timir iron-ore project and its hotel unit, while its aviation business will remain in the group as a separate company.
ALROSA has proposed to place 7 percent of shares owned by the Russian Federation and another 7 percent held by the Yakutia Republic in the listing. Currently, the Russian government owns 50.9 percent of the company, Yakutia holds 32 percent, and municipalities within the region own another 8 percent. The company has a small existing free-float of shares, based on stock sold by employees to outside investors.
CEO Fyodor Andreev recently told Reuters the offering could value the company at up to $15 billion. If it achieves that goal, the IPO would confirm ALROSA as the world's most valuable diamond company and would arguably present the industry's story of the year. But for ALROSA, the IPO represents the beginning of a strategy to achieve longer term goals – to ensure profitability well beyond 2018.
By then, it will be a pure play diamond mining company, assessing how to best utilize its significant reserves to drive growth.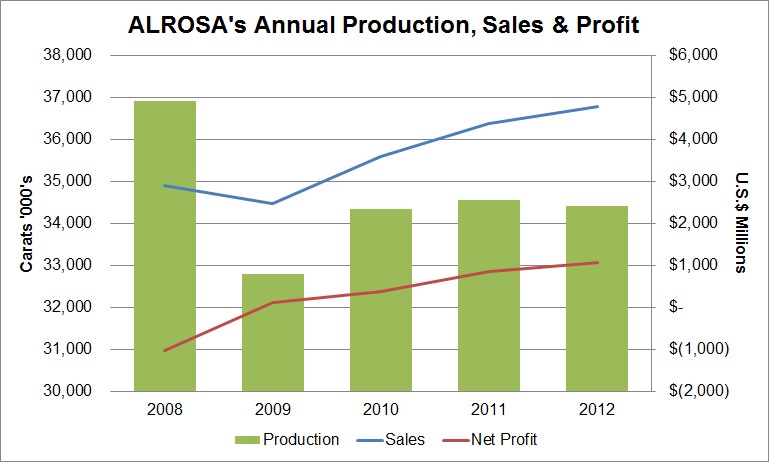 Graph based on published ALROSA reports in Russian ruble. Rapaport News converted sales and profit figures to US$ based on the current rate of $1 = RUB 31.57.