Press Release (OTTAWA) – The Diamond Development Initiative (DDI) is very pleased to announce that three African governments have made financial contributions to its work.
The governments of Angola and of the Democratic Republic of the Congo have each made contributions to DDI's work in the artisanal diamond mining sector.
There are an estimated 1.5 million artisanal diamond miners in Africa. Most work on their own in the informal sector, and most earn less than a dollar a day. Collectively they support an additional 7.5 million family members. They work in unsafe and difficult circumstances. Many are children. Artisanal mining areas are where conflict diamonds originated, and they remain volatile. DDI has programs aimed at ending child labour and bringing miners into the formal sector where working conditions and incomes can be improved. It is developing human rights training programs and a "development diamond" project that will use independent third party monitoring to track diamonds from ethical mine sites through to the jewellery retail sector.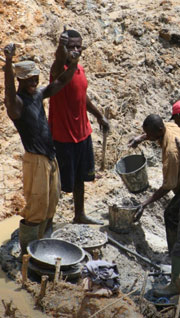 DDI works closely with African governments on these projects and in the Kimberley Process where industry, civil society and governments seek to ensure that conflict diamonds cannot again recur. "DDI has a special place in the Kimberley Process," said Martin Kabwelulu, Minister of Mines, Democratic Republic of Congo. "It has a unique development mandate on the ground in Africa, one that no other development organization is tackling. DDI's work is important to my country, to artisanal diamond miners and to the communities in which they work. We are pleased to provide a small token of our support and confidence in what DDI is doing."
"I believe that African governments must be partners in helping to solve the problems we are addressing," said Dorothée Gizenga, DDI's Executive Director. "I have long believed that funding for these projects should not come entirely from the North. To my very pleasant surprise, Angola, DRC and Guinea were the first to respond in a constructive and meaningful way. We hope and fully expect that others will join the lead that DRC and Angola have shown."
About DDI: The Diamond Development Initiative is registered as a non-profit charitable organization in both Canada and the United States. Our charitable registration number in Canada is 84188 3606 RR0001. Our US 501(c)(3) Tax ID EIN number is 51-0616171. DDI's executive office is located in Ottawa, Ontario, Canada.
Contact us: enquiries@ddiglobal.org