Lucara Diamond Corporation has sold a stone that was originally part of the second-largest rough diamond in history for more than $17 million.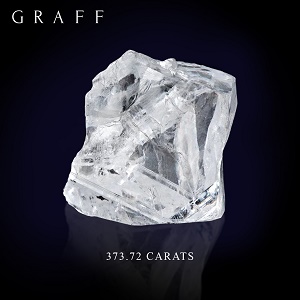 The 373.72-carat rough, which broke off the Lesedi La Rona diamond during the production process, fetched $46,935 per carat at Lucara's exceptional-stone tender, the company reported last week. As a whole, the sale event brought in $54.8 million from 15 rough diamonds totaling 1,765.72 carats, at an average price of $31,010 per carat.
The Lesedi La Rona, discovered at Lucara's Karowe mine in Botswana in November 2015, weighs 1,109 carats, but would have been closer to 1,500 carats had it not broken into two pieces, Lucara CEO William Lamb said in May last year.
The larger stone, minus the 373.72-carat fragment, failed to sell at a Sotheby's auction last June and is still in Lucara's inventory. The company hopes to sell it in the first half of this year, Lamb told Rapaport News in December.