In what is shaping up to be one of most the amazing diamond finds in recent times, a 122.52 ct. blue diamond — the size of a walnut — has been discovered at the Cullinan mine in South Africa, said mine owner Petra Diamonds.
Blue diamonds are ultrarare, as are stones weighing more than 100 cts. — making this, as Petra puts it, a "truly significant find."  "It's virtually unheard of to have a blue of over 100 carats," says spokesperson Cathy Malins.
However, it's not clear whether this will stand as the largest piece of blue rough ever found. One reference source says that a 620.14 ct. light blue stone was recovered in South Africa in 1984. Beyond that, there is no official record of the size of the rough was that produced the world's most famous blue, the 45 ct. Hope, but it is estimated at 112 cts.
A statement from Petra did not comment on the color or clarity of the stone, saying it will require "further analysis in order to assess its potential value." But an analyst told Reuters he believes it could set a new benchmark for the highest recorded price of a piece of rough when it's sold later this year — besting Petra's previous champ: the Feb. 2010 sale of a 507 ct. white stone for $35.3 million.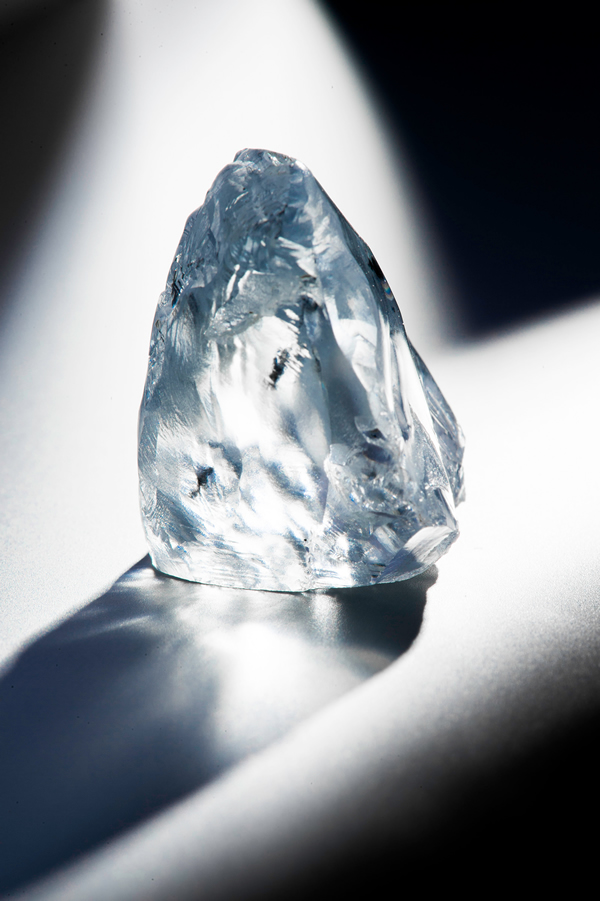 ---
Pictures The Big Blue, JCK online, courtesy Petra Diamonds.